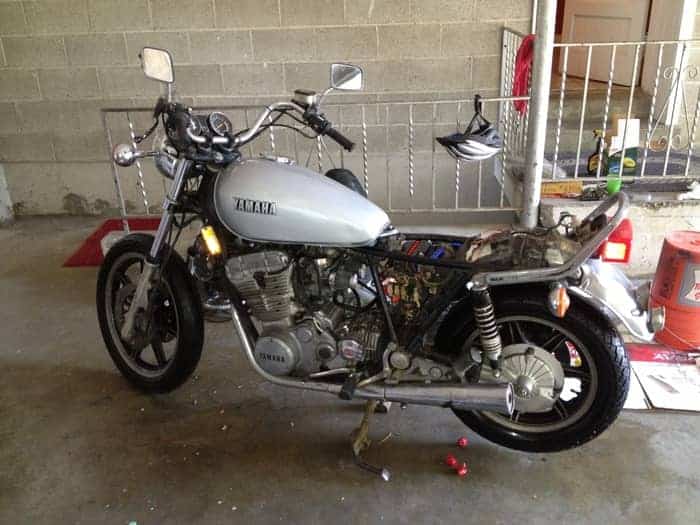 Restoring a motorcycle can be an extremely rewarding experience. Though at times it may be frustrating, if you keep at it you will be so proud of the beautiful machine you've created.
Restoring a motorcycle rather than buying an already restored one can save you a lot of money. If you're currently working on a project motorcycle but have a strict budget you need to stick to, completing your project is still very possible. I have restored almost 15 motorcycles and most of them were done while I was going to college. I've compiled a helpful list of ways you can save money on your project motorcycle.
Don't Buy Parts Too Far Ahead Of Time
It's easy to get anxious when beginning the process of putting back together and reviving a project motorcycle. And while it's also important to know ahead of time the parts you're going to eventually need, buying everything at once can actually be terrible for your budget.
It's okay to buy a handful of parts a week ahead of time when you know you're going to be installing those parts in the coming weekend. That's actually really smart to do. But when I say you shouldn't buy parts too far in advance, I mean don't buy everything you need in one transaction.
This will often lead to parts getting piled up in the corner of your garage or some other room inside the house. Other household members might move them and they become lost, or, with them being in the way for so long they could potentially become damaged (especially bigger parts). This will ultimately cost you more money in the long run and probably take more time.
Buy A Motorcycle That's Running
If you're wishing to pursue the hobby of digging into a project motorcycle and don't already have a motorcycle yet, it's best to start out with getting a motorcycle that's already running. It can be incredibly tempting to buy that $600 motorcycle that isn't running, but if this is your first go-around it's best to stick with something that you know is in good working order.
People who are selling their motorcycles can tell you whatever they want about it. Hopefully they're honest people, but don't fully count on that. You should only buy something based on what you can actually see about the bike. The owner may say the motorcycle isn't running because of carb issues (which is an easy fix), but it's hard to know until your in the project yourself.
I have fallen victim to this myself several times. I bought a motorcycle that wasn't running and thought I knew what the problem was because the owner claimed they knew. I ended up spending way more money than I expected fixing up the motorcycle to get it running than I would have by simply buying a motorcycle that was running. If you don't know a whole lot about motorcycles, always buy one that's running.
For more information about what to look for when buying a project motorcycle, see my article here.
If you're interested in seeing these tips in action, I've created an entire video series on how to restore a motorcycle from start to finish. Within this series includes tips and tricks you won't find anywhere else online as well as tutorials on hard to tackle components such as carb rebuilds, electrical, and body work. Click here for more information if you're interested in building your dream motorcycle!
Restore A Japanese Motorcycle
There are some pretty amazing motorcycles that have been built from various manufacturers and countries. Unfortunately, some of them are a lot more expensive than others.
During the first little while of my motorcycle restoration days, I quickly found that Japanese motorcycles were by far the easiest and budget-friendly motorcycles to work on. But just because they're considered "cheaper" doesn't mean they can't look spectacular.
Most of my motorcycle projects were Japanese made. I've also restored a 1983 BMW R80 as well as a 1969 TR25W Trophy. While these were extremely fun builds that turned out amazing, they were also significantly more expensive than my Japanese builds since they're European. The parts for them were a lot more expensive.
Parts for Japanese motorcycles are not only less expensive, but they're also extremely easy to find. And repairs are also less expensive if you have to take them in to a mechanic. For more information about the best beginner motorcycles to restore, see my article here.
Join Online Forums
Getting stuck and not knowing what to do while working on a motorcycle project is a normal part of the process. I have been there thousands of times myself and I know that it can be very frustrating.
A great resource I found was online forums. They can seem very 1990's-ish, but they've actually proven to provide some vital tips and tricks that helped me get out of some sticky situation with some of my motorcycle rebuilds.
Whatever project motorcycle you're working on, I guarantee there is an online forum you can join specific to your bike. All you have to do is Google it. The people who are already on that forum have a slew of knowledge you can learn from and will be able to answer very specific questions about your motorcycle that you wouldn't be able to answer elsewhere. You can also look at previous conversations and learn more about your bike than you expected.
This can save you a lot of money because you can find ways to troubleshoot certain things yourself rather than taking it in to the mechanic and have them figure it out.
Sell Old Parts
When working on a project motorcycle, it's inevitable you'll have parts on it that you'll take off and won't use again. While these parts may seem useless to you, they can actually bring in some extra cash to help fund your project.
The first few motorcycles I restored I simply either gave all the extra parts to the thrift store (handle bars, luggage racks, etc.) or I just threw away any mechanical parts. Little did I know that I was throwing away some potential cash flow.
It luckily hit me that I could actually sell these parts. I simply uploaded some pictures and a brief description of them either on Facebook Marketplace and eBay. I would usually end up getting an extra few hundred dollars from these parts for each motorcycle project.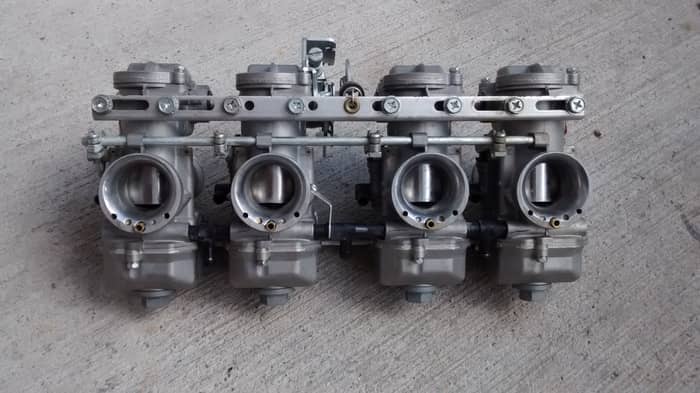 Pictured above are some carbs that came off a CB750 I bought and restored. I bought the motorcycle for $400. I was about to just give these carbs away but first decided to look them up. They ended up being carbs specific for racing and I sold them for $400. They essentially paid me back for the price I paid for the bike.
Do a little research before throwing anything out. All you have to do is a simple google search and see how much that part is running for and if it would be worth it to sell it. You'll usually find that you can sell most of those parts.
Always Use Promo Codes
We live in a day and age where we have an endless reservoir of information at our fingertips: the internet. More and more people every day end up buying what they need online. This is usually the route I go when I buy motorcycle parts.
The amazing thing about buying parts on the internet is that you can find creative ways to save. eBay in and of it'self is a great way to save on used parts, but sometimes you need parts that are brand new that you cannot find on all the normal online platforms.
Anytime you buy a part online from an online parts store, look for promo codes to use. A promo codes is basically a coupon that will give you a certain percentage off your purchase. All you need to do is Google "[company name] promo codes" and you'll get results for several possibilities.
It's not a guarantee you'll find one, but I find a promo code I can use about 80% of the time. Sometimes it's a 5% off coupon or free shipping. Even if it's only a few dollars off, that can add up in the long run.
Paint The Tank Yourself
A lot of people assume that a new paint job on the motorcycle gas tank requires professional help. The truth is if your project motorcycle tank needs a new paint job, you can actually easily paint it yourself and make it look amazing. This in itself will save you a ton of money.
If your motorcycle has big scratches or dents, there's no need to worry because you can fix those too. Through my motorcycle restoration experience, I ran into every type of motorcycle tank problem imaginable. I was a complete amateur when I first started, but I quickly learned that fixing and painting the tank can be considered a DIY project.
Because of the curvature of the tank, spray paint marks are more difficult to see. You'll still need to use quality equipment and paint (click here to see my article about the best paint to use on a motorcycle gas tank), but doing it yourself will save you a lot of money. And if you tried but find that you simply can't do it yourself, you're really not out that much before you have to take it to a professional. At least you'll know you tried.
Paint The Frame Yourself
Along with painting the tank yourself, it's also entirely possible to paint the frame yourself as well. Not everyone has to repaint the frame on their motorcycle, but doing so gives it a fresh new look.
The good news is that you don't have to disassemble everything off your motorcycle to repaint the frame (see my article here about how to paint a motorcycle frame without removing the engine). This will help make it less overwhelming for those who aren't planning on doing a complete overhaul on their bike.
The other good news is that you don't have to pay large amounts of money to make the paint job look good! I always use a quality spray can on my frames (click here to see my article about the best paint to use on a motorcycle frame).
Check Local Classifieds
Local classifieds are a great way to save money by purchasing something that's lightly used. This is especially true in the motorcycle world. Most of us end up getting our motorcycles from some sort of classifieds ad.
But looking as local classifieds doesn't have to stop there. Don't forget to use this platform when looking for parts for your motorcycle; this is a great way to look at parts before you buy them so you know whether or not it'll work (as opposed to buying used parts online).
Because these parts are used, they usually come at a much lower price. You'd be surprised at the things people are selling and what you'll actually be able to find.
When I was working on a 1980 Yamaha XS850, I found out that the engine was completely unusable (that's what I get for buying a motorcycle that wasn't running). Luckily, through the local classifieds, I was able to find the exact engine I needed for only a few hundred bucks. It worked out perfectly.
Join A Motorcycle Club
You may not know it, but there are actually motorcycle clubs everywhere. And you can make a lot of friendships and gain a lot of valuable knowledge from being a part of a motorcycle club.
The value you can get from a motorcycle club, aside from being among fellow motorcycle enthusiasts, is that you can recruit help from people who have similar passions. Often times when you're stuck on a certain specific project on your bike, bouncing ideas off of someone can help you get out of that rut. This is especially true with bouncing ideas off someone who already knows motorcycles.
Along with that, you'll likely find some luck getting people to actually do some hands-on help on your project motorcycle. That can save you a lot of time and money.
Leave Some Things For The Mechanic
With all of this being said, there are a few instances where you'll simply need to take your motorcycle in to a mechanic to get it fixed. Some things are better left for a mechanic anyway.
I bring up this point because if you are really stuck with a problem that's just way over your head, you could cause more damage and therefore more money if you keep tinkering with it. Part of working on a project motorcycle is knowing when to put your hands up and let the professionals handle it.
When I was working on my 1969 TR25W Trophy, I was bound and determined to get the engine timing to work by doing it myself. I even recruited my father-in-law who is also an avid rider and motorcycle enthusiast to help me. But I ended up causing more damage which made the bill a little bigger when I took it in to the mechanic.
Related Questions
How much does it cost to build a cafe racer? If you plan to do the upgrades and rebuild yourself, the cost to build a cafe racer is between $700 – $1,000 in addition to the purchase of your motorcycle. The price of your motorcycle will depend on the area you live in and the time of year you buy. Click here to see my article for more information.
When is the worst time to buy a motorcycle? The worst time to buy a motorcycle is in the spring and summer months. Sellers know most buyers are looking to buy a motorcycle around this time and can therefore make the prices higher and less negotiable. The winter months are the best time to buy.