✓ PRO TIP:
New to riding a motorcycle?
Get the best deal on insurance by comparing quotes.
Enter your zip to get started.
ZIP: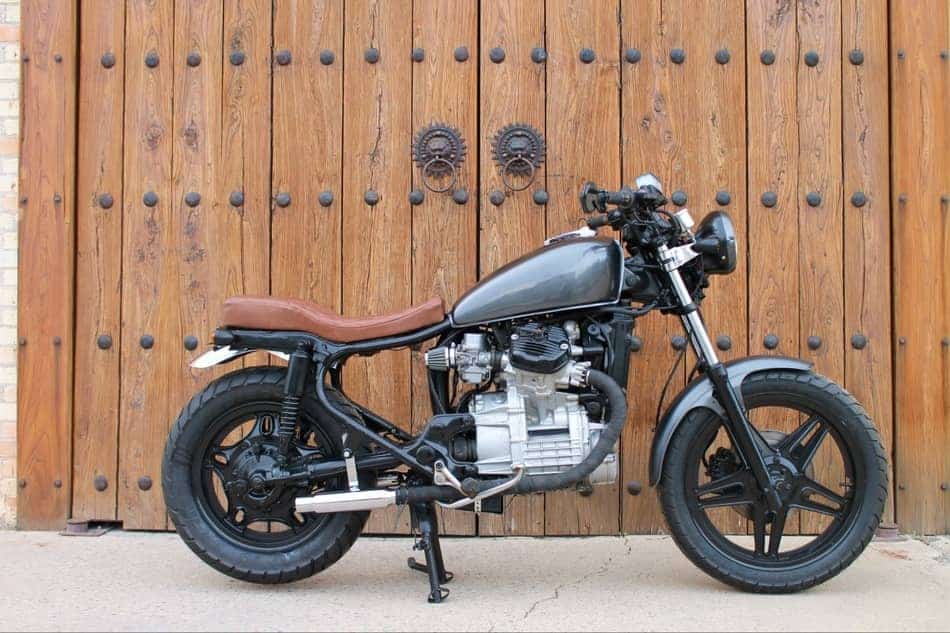 There are thousands of makes and models of motorcycles, and searching through lists of ads for that perfect project is daunting and frustrating. Many people have little mechanical experience when starting out on their first restoration/rebuild, so this article will help you sift through which motorcycles would be a good choice. I have restored over a dozen motorcycles and below you can find a list of what I find to be the easiest ones to restore.
So what are the best beginner motorcycles to restore? The easiest motorcycles to restore are generally Japanese brand motorcycles made between the late 60's to late 80's. They are easy to find, easy to work on, and cost very little compared to other motorcycles. Here are some suggestions:
Honda:
1973-1976 CB200
1968-2008 CB250
1968-1973 CB350
1975-1990 CB400
1965-1974 CB450
1971-1973 CB500
1978-1983 CX500
1981-1982 GL500
1974-1978 CB550
1983 GL650
1979- 1985 CB650
1983 CX650
1961-1968 Super Hawk
1969-1990 CB750
1975-1990 GL1000
Kawasaki
1977-1984 KZ200
1992-2000 BJ250
1972-1974 350 Mach II
1968-1980 KZ350
1974-1984 KZ400
1979-1985 KZ500
1981-1985 KZ550
1982-1990 GT550
1976-1983 KZ650
1976-1983 KZ750
1982-1985 GPZ750
1977-1990 KZ1000
1980-1986 Z1100
Yamaha
1982-1986 SR125
1980-1984 SR250
1977-1981 XS250
1980-1983 RD350LC
1976-1982 XS400
1973-1974 TX500
1975-1978 XS500
1987-1990 XV535
1970-1983 XS650
1980-1983 XJ650 Maxim
1982-1985 XJ750 Maxim
1972-1975 TX750
1976-1981 XS750
1981-1990 XV750 Virago
1979-1980 XS850
1983-1990 XJ900
1981-1986 XV920
1986-1990 XV1100
1978-1981 XS1100
Suzuki
1990-1992 GN250
1980-1981 GS250
1972-1977 GT380
1978-1984 GS400
1980-1983 GS450
1979-1982 GS500
1968-1976 T500 Titan
1977-1978 GS550
1981-1983 GS650
1976-1978 GS750
1980-1988 GS850
1980-1990 GS1100
I really try to convince people to go with a 1960's to 1980's Japanese bike for their first build; aside from them being incredibly easy to find, easy to work on, and cost very little to get a decent one, the end results bring absolutely stunning motorcycles that my past clients have gone crazy for. I will explain this in more detail.
Easy to Find
If you go to any online classifieds page and put in a search filter for all motorcycles under $1,500 then the majority of those search results are going to be motorcycles on the list above. Your first restoration/rebuild project should be something you can find easily. If it's easy to find that also means that parts are going to be easier to find.
I would recommend buying your first few restoration projects from someone local, that way if there's something major wrong with it or if you just have general questions the seller is probably more inclined to be helpful, speaking from experience.
If you find a motorcycle that isn't far from where you live, your significant other is also more inclined to let you get it because the effort of getting it is a lot less. You can take your partner/spouse over to look at the motorcycle with you, this will help them to see how excited you are about it and will help convince them.
Easy to Work On
Older Japanese motorcycles were built very simply. There weren't a lot of electronics, the only things controlled electronically were the lights ,the timing, and the battery charging system. One main harness runs all the way from the front to the back of the motorcycle, with small branches to the lights.
At first electrical work seemed daunting to me, but I've done enough of it now that I can build a completely custom wiring harness out of new wire just by looking at the old one.
Electrical diagrams can be found very easily online for free. The older generation of Japanese motorbikes have a huge online following and any question you could ever have has already been answered on forums and websites.
This makes them incredibly easy first-time projects. A lot of the European motorcycles from that generation have sub-par electrical diagrams compared to Japanese motorbikes.
Carburetors from that generation were very simple to take apart and rebuild, and can be done in a few hours. Carburetors are a double edged sword on these old motorcycles. When they are clean (which doesn't take too much effort) they run incredibly well.
But with even the smallest speck of dirt in one of the carbs can really put a damper on their ability to function. Even with newer gasoline that has higher concentrations of ethanol they can be a bit finicky. But by feeding them non-ethanol gas and keeping them clean you'll have years of fun from that little carb. Click here to see my list of recommended tools that are essential when working on a motorcycle.
Cost Is Very Little Compared to Other Motorcycles
With all the motorcycles I have restored over the years, I never paid over $900 for one, even my 1969 Triumph. Sellers list their motorcycles for a higher value than they know they're worth in hopes that someone will just pay the full asking price. The cost does depend a great deal on where you live though.
When we lived in Utah and Idaho we could find motorcycles for incredibly cheap. Now that we've moved to Mississippi I've noticed that prices are a little higher on average, but if you wait a while and keep looking around you can still find awesome deals.
You don't want your first few motorcycle restorations to be large monetary investments. The truth is, a lot of people start their first build and get overwhelmed and end up selling it for a fraction of what they paid, just trying to recoup some of their loss.
Be smart about it and spend $1,000 on your first one instead of $4,000 on a rare European motorcycle. If you get in over your head and have to sell it, it's much better to lose as little money as possible.
Finding parts for Japanese motorcycles is a lot easier and cheaper nowadays because of the café racer revival. There are tons of online stores that have popped up with as many parts as you could ever want for your rebuild. See my list of things you need to know when restoring Japanese motorcycles.
For those of you that have either done a few restorations or have a higher budget then I would definitely recommend looking into older European motorcycles like BMW, Triumph, Norton, Royal Enfield, etc.
These motorcycles cost a lot more initially because of high demand and lower supply, but they also retain their value, or increase in value, a lot faster than Japanese motorcycles. You don't see them around as much as Japanese motorcycles, so they really catch people's eye when you ride past.  That's one of the reasons riding my Triumph is so much fun.
I have created an entire video series about rebuilding and restoring a motorcycle completely from start to finish. This series includes hard-to-tackle components such as body work, carb rebuilds, and electrical as well as helpful tips and tricks you won't find anywhere else online. Click here for more information if you're interested in restoring or building your dream motorcycle!
Highest Recommended Motorcycles From This List
I have rebuilt or worked on quite a few of the motorcycles on this list, and they all have special qualities and things about them that I liked individually, but some of them stand out from the others for one reason or another. Here are my 5 favorites from the list above.
1. 1980 Yamaha XS850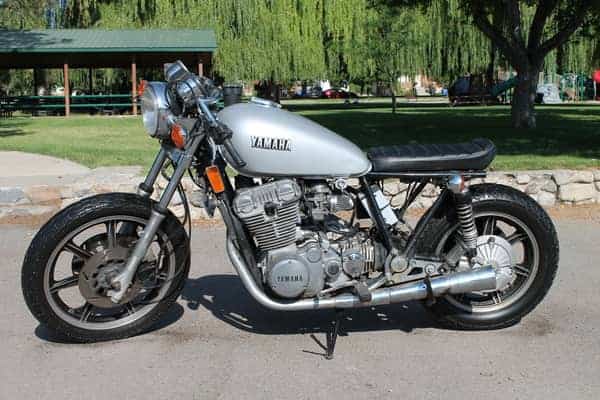 This was the first motorcycle that I ever owned. I was working at an appliance store in northern Utah and got injured while moving a fridge. I was out of work for several months and was going crazy having to sit at home all day and not do anything. I had always wanted to learn how to work on motorcycles and build a café racer so I decided to jump in and give it a go.
I found an ad for a 1980 Yamaha XS850 Triple from a couple in Central Utah. They had just inherited another motorcycle from a family member and no longer needed the older Yamaha. I went and rode it around the neighborhood and decided it was a great candidate for a fresh rebuild. I offered them $800 and they accepted.
I loaded up the motorcycle, took it home, and immediately got to work! It took me about two months to finally get it to a place where I wanted it. Now that I've done so many rebuilds I look back and realize that it didn't really look that great, but for my first project I thought it was the coolest thing in the world.
There were a few things that I loved about the XS850. For starters, I loved the low end acceleration. Taking off from a stop light in first gear was incredible. I could never get the front tire off the ground, but it felt pretty close.
The XS850 has three cylinders, so there are three exhaust pipes coming out of the front of the engine that look awesome! Most motorcycles of that generation are two or four cylinders, so having three sets it apart aesthetically from the others. The top speed of this bike was also higher than any of the others in my top 5, which isn't surprising since it had the highest engine displacement by 100 cc's.
There were also a few things I didn't particularly like about this motorcycle. The electrical system on this motorcycle I had was so brittle and wrapped in electrical tape that it took forever to find any of the wires I would look for. All the searching around for a wire would break other wires and then I had an even bigger problem than I started with.
I built two of these motorcycles and both of them had brittle wiring problems. Yamaha must have used a certain type of plastic that becomes more brittle than any other wires. I also didn't like how close together the carburetor openings were together which made it extremely difficult to install pod air filters.
2. 1974 Honda CB500T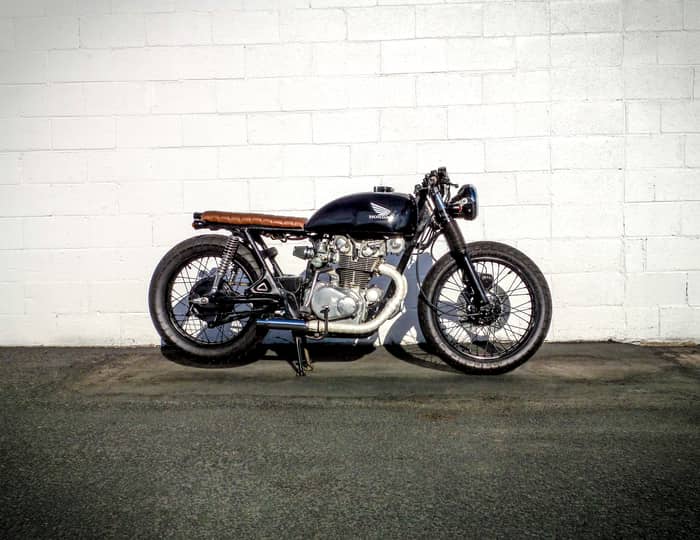 The Honda CB500T (T stands for Twin, as in two cylinders) is one of the prettiest motorcycles I've ever rebuilt. I got constant looks when riding around town, and had people stop me to take pictures quite often. It's a really good feeling when you park and walk into a store and when you come out there's someone standing by your ride taking a picture.
Something else I really enjoyed about the CB500T was the engine design. It looked incredible when the engine covers were all shined up. The two exhaust pipes coming out of the engine were wrapped in white exhaust wrap and ended in shorty chrome tips. This particular motorcycle sold within 48 hours of me posting it for sale, and I had 3 other offers before the seller was able to pick up the motorcycle.
This is one motorbike that will continue to become more popular as time goes on because of its classic style, but it isn't without fault. I wasn't impressed with the power or speed when riding.
It was great for cruising around town at low speeds and looked awesome doing it, but when I needed to speed up in a hurry to get around someone it was as if there just wasn't anything left for the engine to give.
3. 1971 Honda CB500 Four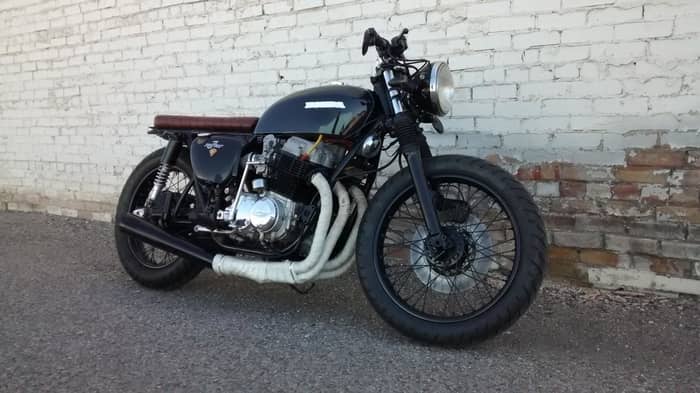 Both aesthetically and riding wise I liked the CB500 four cylinder even more than the two cylinder version. I liked the gas tank better, the engine design, the four exhaust pipes, and I liked that it only had a kickstarter. It was also faster than the 2 cylinder version, probably because it could breath better with twice as many cylinders.
One thing I didn't like about the design of the motorcycle was a separate oil tank on the right side. It's a nuisance having hot oil by your right thigh, and if you're trying to get the open-frame look it creates a problem.
This is absolutely one of the best looking motorcycles I've ever worked on, which is why I love it so much. I think it's classy and is a testament to the Japanese engineers of the late 60's and early 70's and how they pretty much put American motorcycle companies out of business because they could make better and cheaper motorcycles.
4. 1980 Honda CX500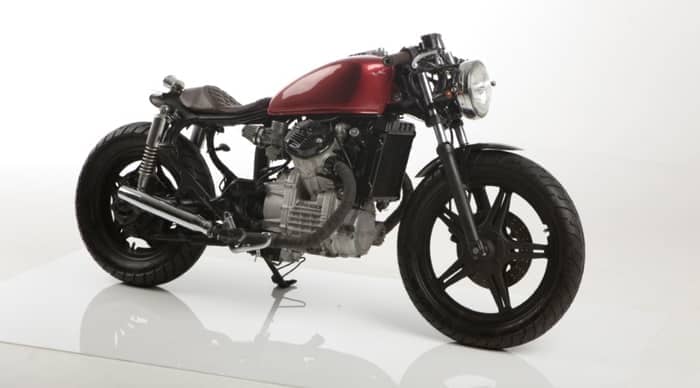 This motorcycle rebuild actually came from parts of 3 different CX500's. I bought 2 that were wrecked and 1 high quality frame to build everything on.
The 2 motorcycles that were wrecked came in boxes of parts, so sorting through everything took a lot of time, but this whole rebuild cost me $1,200 total, and I ended up selling it for $5,500. I also got this motorcycle into several online motorcycle publications which I was certainly proud of.
This continues to be my wife's favorite motorcycle I've ever built, and I hope to build her another one someday that she can ride around.
Some things that I loved about this motorcycle were the tank, the swooped frame, and the engine design. This was probably the best looking paint job I've ever done. It was a two-tone red and darker red paint job and for some reason, the clear coat was just such high gloss that it shined like crazy.
The frame is certainly different on this motorcycle. It has a huge swoop that points towards the rear of the motorcycle that is very distinct. The engine was copied from a Moto Guzzi of the same generation (which Honda later was sued for and lost) which was such an awesome look.
But one of the flaws of this engine was how they tried to make it liquid cooled, but so many of the coolant passages were so small that the engine had problems cracking from overheating and warping the cylinder heads.
5. 1980 Honda CB750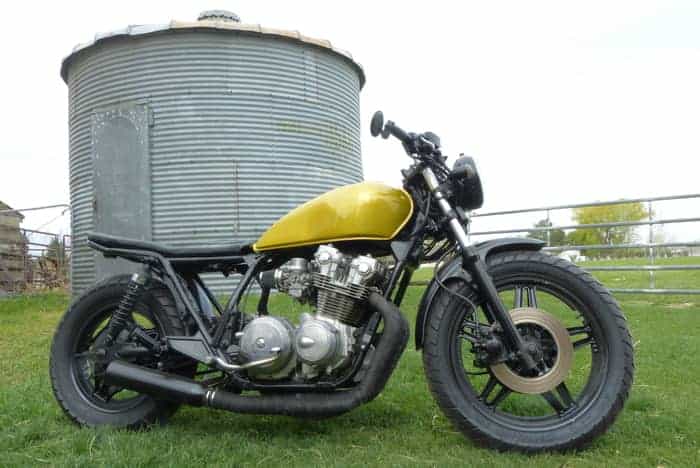 This is hands down my favorite motorcycle I've ever owned! They are fast, fun, and beautiful. Honda began building the CB750 in 1969 and right from the start they were making engineering breakthroughs. The first ever CB750 engines were sand-casted aluminum which had never been done before.
If you can find one of these you've hit the jackpot! It is Honda's longest running model, with manufacturing running from 1969 to 2003. They were the first to successfully utilize the potential of overhead camshafts in motorcycles, and quickly started winning race after race on the international circuits. The CB750 was the fastest motorcycle of the early 70's and is still a blast to ride almost 50 years later.
I have restored and worked on a lot of CB750's, and they will always be on my list of best motorcycles to own and restore.
The first CB750 I owned was purchased in Utah for $900 from an older man who decided he was too old to ride anymore. It was weighed down with huge saddle bags, windshield, double seat, radio, and towing kit.
I have no idea how much it weighed, but I did weigh all the parts that I took off, and it was over 400 pounds of stuff! I didn't do a full rebuild on the first CB750 I had, I just repainted the tank, the fenders, cleaned up the wiring harness, and polished the engine and sold it for $3,000.
Related Questions
How much do you spend on average for a motorcycle rebuild? If you plan to do the upgrades and rebuild yourself, expect to spend $700 – $1,000 in addition to the purchase of your motorcycle. I generally buy used motorcycles for about $500 – $900 because of where I live, but the price of your motorcycle will depend on the area you live in. Click here for our article about the cost to rebuild a motorcycle.
Is it possible to flip a motorcycle for profit? It is completely possible to flip a motorcycle for profit. Before you get started you need to understand your skills and budget, have the right work space, find the right motorcycle to flip, and spend the time to make it look good. For more information, see my article here.