✓ SAVINGS TIP:
Find out if you're overpaying for motorcycle insurance!
Save money by comparing quotes.
Enter your zip to get started.
ZIP:
Cafe racer motorcycles have become more popular over the last decade and it's obvious as to why they have. They're sleek, minimal, and they catch the eye of anyone you pass while riding.
I've done hours of research finding the best value replacement parts while still making a motorcycle look good. I often get asked how much I generally spend on restoring cafe racers.
How much does it cost to build a cafe racer? If you plan to do the upgrades and rebuild yourself, the cost to build a cafe racer is between $700 – $1,000 in addition to the purchase of your motorcycle. The price of your motorcycle will depend on the area you live in and the time of year you buy.
I've restored over a dozen cafe racers over the last few years and have learned a lot about them. There's a lot more to it than just knowing how much you'll need to spend.
Break-Down Of Costs To Build a Cafe Racer
Because I have done this project so many times, I've become familiar with the costs associated with each part of the motorcycles. The amazing thing about cafe racer motorcycles is the minimal cost because they're minimal vehicles.
If you plan on repainting the tank and fenders yourself, expect to spend about $70. This cost includes tape, bondo, primer, paint, and clear coat. If you're more comfortable with having these painted professionally, you'll need to plan on paying about $200 – $250.
Restoring a motorcycle often requires replacing the seat. Cafe racers are likely built from older motorcycles so the seats are usually torn and/or not usable. On Amazon, you can find a seat in the $30 – $50 range. If you wish to have an upholsterer make a seat for you, you'll need to plan on about $250 in addition to making a seat pan for the upholsterer to use as a frame for the seat.
When restoring a motorcycle, it's a good idea to replace the headlight as this will prevent any safety issues. A new simple headlight for a cafe racer is about $50. There are more expensive ones if you have expensive taste, but this is the price I usually pay and the motorcycles turn out beautiful.
When building a cafe racer, you'll want to replace the taillight and the blinkers for something much smaller yet still functional. I can usually find blinkers for about $30 (that includes front and back blinkers) and a tail light for about $20. Be sure to buy blinkers that blink yellow/amber and a tail light that shines red to avoid problems with road laws.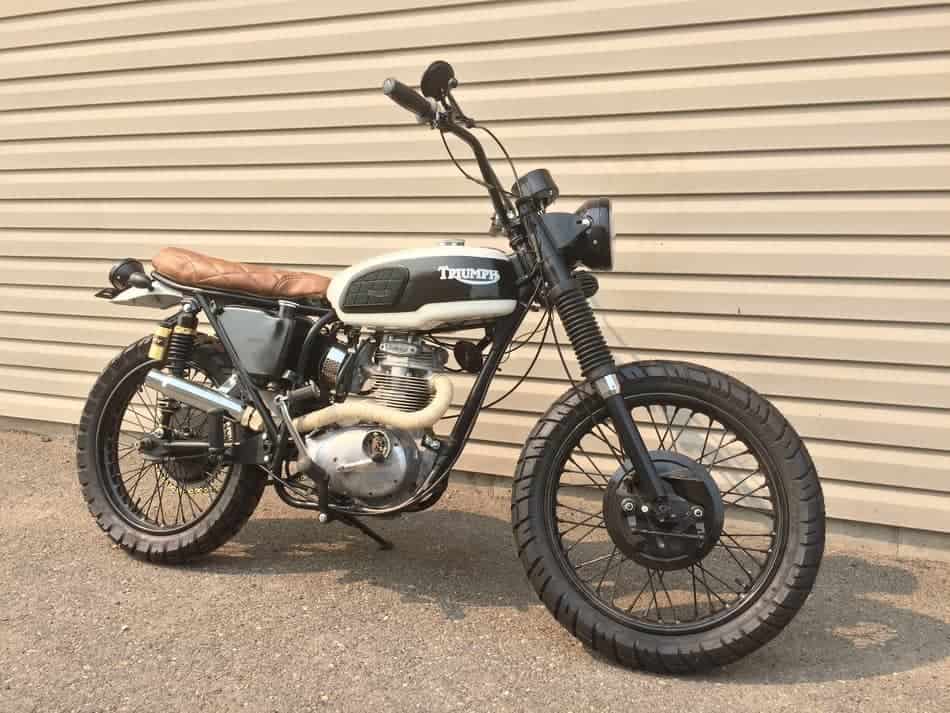 One big reason a cafe racer is considered as such has a lot to do with the tires. You'll want to get good looking tires that also provide good functionality as a cafe racer is meant to give you quick rides over short distances. I usually spend about $150 – $175 on a set of tires. I usually use something like the Shinko 712 front tire and something like the Shinko 712 rear tire (both used in the picture above).
Some people like to keep the original speedometer and tachometer for the more vintage look. I like to replace them to have a cleaner feel. Plan on spending about $30 for a new tachometer and $30 for a new speedometer. I especially recommend a new speedometer for safety reasons. and
Low mounted handlebars is part of what makes a cafe racer a cafe racer. It gives a slick race-like look. You'll most likely need to replace yours. Expect to pay about $30 for simple, low handlebars.
Painting the frame is probably the cheapest part of the motorcycle rebuild and also gives the motorcycle the biggest face-lift. You can paint your frame for about $15, I usually buy one can of self-etching primer and one can of black Dupli-Color aerosol from an auto store.
Let's not forget about making the exhaust system more simple. New exhaust pipes and exhaust wrap are about $60 altogether. Don't skip this step as it will give you the final touch of a cafe racer creation.
There will be several miscellaneous items you'll need to get depending on the motorcycle you're working on and the issues you need to fix. Such miscellaneous items may include hardware, wires, electric connectors, fuses, shop towels, etc. Don't forget to add these into your budget because it can add up quick. Plan on spending about $150 for these items.
The last thing to consider into your budget is miscellaneous professional mechanic fixes. You will need to take your motorcycle in at least once for fixes because you probably don't have the right tools/knowledge to do what you need to do on your motorcycle. For example, I always take my motorcycles in to get the tires mounted to the wheels because I personally don't own a tire mount.
Other miscellaneous mechanic fixes may include shock rebuilds, timing issues, head gasket replacement, cylinder head rebuilds, valve replacement, and other major engine rebuilds. Budget about $100 – $300 for these fixes. See my list of recommended motorcycle upgrades here.
How Difficult Is It To Build a Cafe Racer?
You'll be amazed when you begin your cafe racer restoration; the amount of parts you'll have piled up that you won't be using from the original motorcycle is incredible. It's quite satisfying and you can almost hear the motorcycle give a sigh of relief from the weight change.
Building a cafe racer is a lot more simple compared to other motorcycle builds because of it's simplistic nature. The point of a cafe racer is to have the least amount of parts on it to make it go faster; the original thought was to have them look and function like race bikes.
If you're restoring a motorcycle for the first time, building a cafe racer is an excellent choice because of how simple it is. You can find the parts you need on almost any internet selling platform. And the best part of building a cafe racer? It's cheap! Click here to see my article about whether or not you need experience to restore a motorcycle.
I have also created an entire video series about how to rebuild a motorcycle from start to finish. Within this series includes tips and tricks you won't find anywhere else online as well as tutorials on hard to tackle components such as carb rebuilds, body work, and electrical. Click here for more information if you're interested in restoring or building your dream motorcycle!
What Part Of The Motorcycle Should I Start On?
There are easy steps you can follow when you're restoring a motorcycle and turning it into a cafe racer. Because I've restored a good amount of motorcycles, I've found a routine that has worked well for me.
First, you'll need to strip the motorcycle down to the frame. You don't necessarily need to remove the engine unless you want to be completely thorough. While you are disassembling your motorbike, make sure to label EVERYTHING and take hundreds of pictures. Put tape on wires that explain where they went and put small parts in labeled baggies. This will make assembling so much easier.
Next, you'll need to focus on any engine and carb repairs. If your motorcycle was already running great, then all you need at this point is to clean and shine up your engine.
You'll then focus on the tires. If you are painting your tire rims and plan to do it yourself, have the tires mounted FIRST, then paint. If you paint first, the mounting machine will scrape off some paint.
However, If you plan to powder coat your rims, you can go ahead and do that first; powder coat won't rub off while mounting the tires. Beware that powder coating aluminum wheels can be dangerous if the wheels are heated to a high temperature. This can change the metallurgy of the aluminum and the aluminum can get stress fractures at high speeds and blow apart. Are you deciding if you should paint or powder coat your rims? See my article here to see the pros and cons of both.
Since you're still dealing with bare bones, you can now spend time on rewiring electrical and installing your lights and gauges. For a cleaner look, re-wrap the wires with electric tap and make sure you place the wiring in a spot that won't rub on the tires.
Next, go ahead and install your new exhaust pipes with your exhaust wrap if you have them. Don't be worried when your exhaust starts smoking after you first start it, that's just the exhaust wrap curing and tightening to the pipes. The exhaust wrap has fiberglass particles in it and those smoke the first few times you run the motorcycle.
Now you can install your handlebars; you may need to do a little bit of re-wiring at this point to make room for them. Once you get to this point, you'll start seeing a true cafe racer being created!
You're now ready to place and fasten your seat onto your motorcycle. If you are planning on having your seat custom made, take your seat in at the very beginning of the process as an upholsterer can take several weeks to finish your seat.
Now the final touches! You can now install your fenders and your tank. Always do this very last in your assembling process. The last thing you want is a big scratch or dent on your tank from messing with the handle bars or trying to install the seat. Click here to see my full guide on how to build a stunning cafe racer.
How Much It Costs To Maintain a Rebuilt Motorcycle
You may be wondering, if you're going to own a motorcycle, how much does it cost to maintain? You'll notice it's actually significantly cheaper than maintaining most other forms of transportation.
First you'll need to look at insurance. This all depends on the make, model, and age of your motorcycle. The average insurance premium for a motorcycle is about $300 – $500 a year. I pay $17 a month or just over $200 a year.
One thing I love about owning a motorcycle is the cost of fuel. You can fill up your tank for $10 – $15 and get at least 40 MPG. If you own a newer motorcycle, your MPG is probably even better than that.
You'll run into a few miscellaneous expenses such as a cover, motorcycle lock, etc. These are usually one-time purchases and generally aren't expensive.
If you run into mechanical issues on your motorcycle, a lot of time you can fix it yourself and not require a mechanic. Motorcycles are great for DIYing which saves a lot of money in the long run.
Ultimately, you can plan on spending about $100 a month to maintain your motorcycle. If you primarily use your motorcycle for transportation, that price range will increase; it will decrease with little use.
Related Questions
Where do cafe racers come from? Cafe racers were originally thought of and created by British motorcycle enthusiasts in the 1960's. They were originally created for short, quick rides between cafes. A lot of people at the time were unable to afford a car, so they owned a motorcycle for their main source of transportation.
How much would it cost to have a professional rebuild a motorcycle? A lot of this depends on what the motorcycle needs and how extensive the fixes are. Most motorcycle shops charge about $50 – $100 and hour in labor. Count on spending thousands of dollars for a motorcycle restoration from a professional. All of my builds started at $5,500.