✓ TOP RECOMMENDATION:
Check out this amazing deal on motorcycle insurance!
Get your FREE quote from our top recommended provider below.
Enter your zip to get started.
ZIP:
I've restored over a dozen motorcycles and transformed most of them into cafe racers. While I was going to college, I flipped motorcycles to pay for my tuition and people went crazy over the bikes I built.
I've done hours of research and have spent thousands of dollars buying upgrades for my motorcycles and have come to find the best upgrades to make any motorcycle look like new. While it was cafe racers I mostly built, these upgrades can be applied to almost all other types of motorcycles you may have. These are the upgrades I recommend:
1. Repainting the Tank
When I rebuild and restore a motorcycle, that often means I need to repaint the tank and care for the scratches and dents. Fortunately it isn't as painful of a process as you might think.
I recommend using Dupli-Color aerosol paint for the job (link to Amazon.com). I also recommend using Dupli-Color aerosol primer before you paint. In addition, I like using this 2-part catalyzed clear coat spray (link to Amazon.com) from Spray Max as a perfect last touch to give that needed shine and protection on a tank.
This clear coat has proven to work extremely well and doesn't get eaten up when fuel is spilled on it. Click here to see an article I wrote about how to successfully paint the motorcycle gas tank yourself.
2. Seat
I always change the seat on my motorcycles, mostly due to the original seats being old and worn out. The look of the seats of some older motorcycles may seem a little outdated anyway.
I recommend these motorcycle seats found on Amazon.com. This is the style of seat I use on all of my motorcycle restorations. They may not be as comfortable as those big plushy seats you may see on other motorcycles, but they still give the comfort you need during a ride while still giving your motorcycle an updated look. If you'd like higher end seats, I recommend any of these seats found on Motosport.com.
Be sure to find the right size of seat that fits with your motorcycle. Take the proper measurements and assure it fits you as well.
3. Tires
Tires on a motorcycle is one of the essential elements that really describes what type of bike you have. You want to make sure you have high quality tires that last you a while and won't give out on you in the middle of your ride.
I recommend using Shinko motorcycle tires to replace both the front and rear tires of your motorcycle. You can find a variety of Shinko tires by clicking here (link to Motosport.com). I've used these tires countless times and each time they've proven to work well and have reliable durability. They're also affordable which is always a plus in my book. Aside from reliability, they look incredible and gives your motorcycle an updated look.
Be aware that your front and back tires are different from each other and that you need to get your motorcycle's specific size of tire as every motorcycle is different.
4. Headlights and Taillights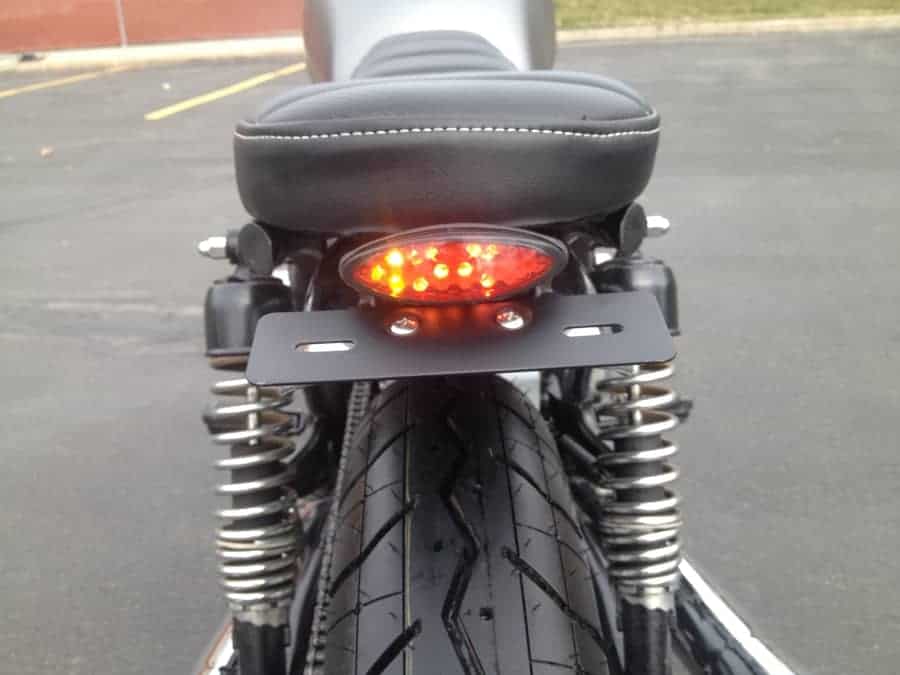 Whether you're restoring a motorcycle or you simply want to give your motorcycle an updated look, headlight and taillight replacements can really help you give your motorcycle that better look you want.
This Motorcycle Retro Clear Lens Headlight (link to Amazon.com) does the job perfectly. Again, I have used this light many times on my motorcycle restorations and I have been very pleased with how well it works.
As for the taillight, I recommend this LED light (link to Amazon.com). I haven't had any problems using this taillight which has been nice because any problems with electric components can make you want to pull your hair out. The brightness difference between the normal taillight and the brake light is very noticeable so you'll be perfectly legal on the road. As an added bonus, it even has an attached plate for your license plate.
5. Painted Frame
You'll notice in some pictures of my motorcycles that I love to have black frames. I love the new look after painting. Painting your motorcycle frame gives an amazing face lift, especially if you've never done it before.
Again, I like to use Dupli-Color aerosol that can be found here on Amazon.com. I use these same brands to paint my tanks and I've found it works perfectly for frames as well. The spray mechanism works great and the paint tends to last for a long time. It also proves to be less susceptible to scratches or chips.
6. Exhaust
Exhaust can be a very individual thing and vary from person to person. Some people like loud exhaust, others like it more quiet. I guess I'm somewhere in the middle; I like to hear a little noise come out of the pipes and let others know I'm around.
With my motorcycle restorations, I always replace the exhaust pipes, usually not the exhaust system itself because that's something that generally stays in tact for a while. I usually replace the pipes with ones like these found on Amazon.com. I like these pipes because they're minimal, easy to install, and look awesome.
I also like to add some exhaust wrap (link to Amazon.com) around the exhaust pipes. Though the pipes are pretty sturdy, they can get ugly quite fast from the heat that passes through them. The exhaust wrap does an excellent job at hiding that and gives your motorcycle a continual clean look.