✓ SAVINGS TIP:
Find out if you're overpaying for motorcycle insurance!
Save money by comparing quotes.
Enter your zip to get started.
ZIP:
Every few years, motorcycle enthusiasts are faced with a hard decision. Unfortunately, motorcycle helmets do have an expiration date and riders must make the tough transition into buying a new helmet for their safety.
But that often leaves us with a helmet we can't use during rides but don't necessarily want to just throw them away. Some helmets are very expensive while others look simply amazing and throwing them away would seem like such a waste.
If you're having a hard time deciding what to do with your old, expired helmet, here is a list you can refer to that can help you continue to use you beloved head shield while still maintaining your safety on the road.
Use As Decoration
Believe it or not, motorcycle helmets can actually be used for decorative purposes. You may think that sounds a bit trashy, but there are a few ways you can go about doing this in a more classy manner.
I have seen people do things like turning their motorcycle helmets into lamps. It's very easy and only requires drilling a hole through the helmet itself. It would be a perfect office accent or man cave accessory.
You can also try putting all of you helmets on display in your garage. I have known people who have lined up or hung their helmets in an organized manner on their garage wall and it seriously looks amazing. This works especially well if you have a collection of old helmets you don't use any more.
Practice Your Painting Skills
Since you won't be displaying your helmet anymore while you're out for a ride, you don't need to worry about anything cosmetic on it. This means it's a perfect place to learn how to start painting and do some body work if you're interested in getting started with painting your own motorcycle tanks.
Obviously a motorcycle helmet and gas tank are different, but a helmet does have similar curvatures to a gas tank that would be helpful to practice on. It also helps give you an idea of how the paint will work and how the clear coat works on top of that, especially if you plan on using a spray can.
I once found an old motorcycle helmet thrown in a dumpster. I wasn't planning on using it as protection while riding a motorcycle (ew!), but I did practice painting it which really helped me with my tank painting skills. To see the paint I recommend for a project like this (helmet or tank), see my other article here.
Test Out It's Durability
You never want to be put in a situation to see how well your motorcycle helmet works while out for a ride. If you love the specific brand of motorcycle helmet you can no longer use and plan on getting the same kind to replace it, this is a perfect time to really test out it's durability.
Now is the time to take a hammer to it, use a belt sander, or even run over it with your car. This can be a true manifestation of how the helmet would react in the case you do get in an accident in the future with the same brand. You may even want to make a video of it and post it on YouTube to help others decide if it's durable enough for them.
Donate It To A School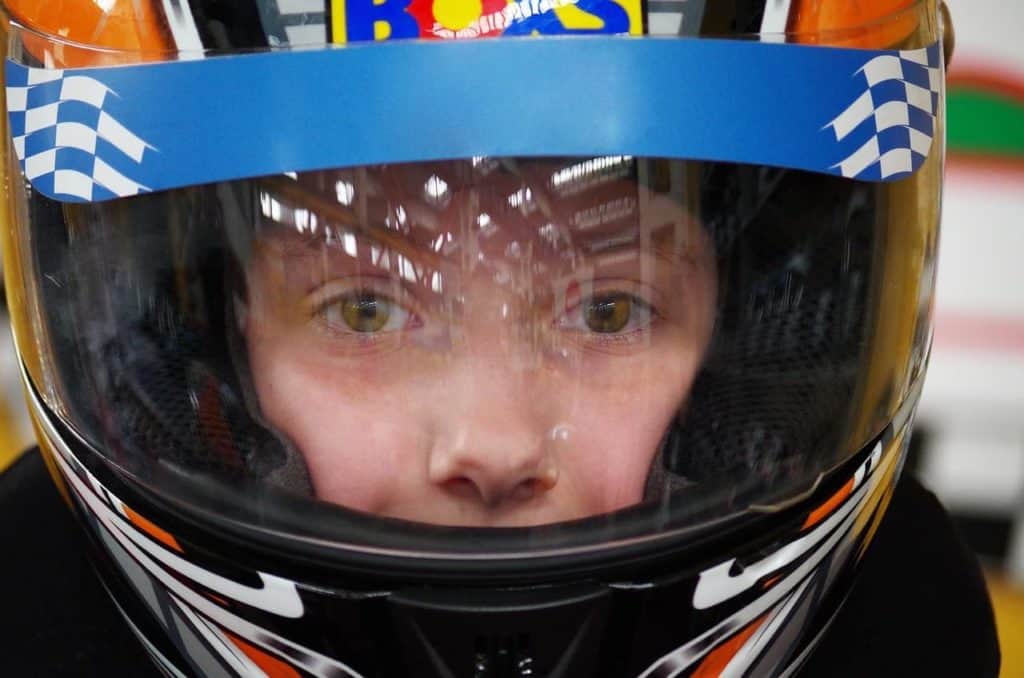 Motorcycle helmets can serve a purpose in a lot of ways, including helping the imaginations of children. If you have any friends who are teachers or live near any elementary schools, consider donating your used helmet(s) to them.
Some teachers out there will have several uses for something like that including having the children use them during play time. The children can pretend they're astronauts, policemen, etc. A lot of teachers would appreciate a donation like this.
You'll obviously need to thoroughly clean out the helmet for sanitation reasons. Teachers that are acquainted with you will probably be more willing to take in something like this since you're not a complete stranger to them and (hopefully) know you're dependable with your sanitation.
Recycle It
If you hate the thought of just throwing away your helmet but still don't want to have it hanging around your home, recycling it would be a perfect solution. Call around to your local recycle centers and see if they'd be able to take such an object.
Every part of a helmet should be recyclable. Though you won't see that helmet ever again, you'll at least know it's not collecting dust in your garage and that it's being made into and used for something else.
Take It Apart and See What's Inside
If you're like me, you may be curious about what the inside of a motorcycle helmet looks like behind all of the foam. There are many successful YouTube channels where all they do is cut things in half and show videos of what it looks like inside.
If you have a saw of some sort, you can try cutting your old motorcycle helmet in half and see exactly what's going on inside and see what elements it had that was protecting you on your past rides. Don't forget to take pictures and videos so other people can share their curiosity!
Donate It To Emergency Services
This is one option a lot of motorcyclists aren't aware of. If you have any fire or police departments near you, ask them if they are in need of any helmet donations.
Emergency services don't use helmet donations to protect their own heads, rather they use them for practice when learning how to care for people who are wearing a helmet. They often practice how to safely remove a helmet from an injured person. A motorcycle helmet would be a perfect donation because the likely type of person they'll be dealing with that's wearing a helmet in emergencies will be motorcyclists.
Again, as a courtesy, you'll want to make sure your helmet is clean. Perhaps you'll want to put new padding inside. Other people will be wearing it so having it clean is a nice gesture. This can also give a motorcyclist a sense of fulfillment knowing their helmet is helping emergency specialists learn how to help other motorcyclists that are in need.
Turn It Into An Easter Basket
This may seem a little out there but if done right, a motorcycle helmet turned into an Easter basket can actually look really cool. This is especially nice if there are several motorcycle enthusiasts in the family that would enjoy something like this.
Converting a motorcycle helmet into an Easter basket is actually quite easy. You may need to remove some of the surface padding that's inside (this also helps with sanitation) and flip it upside down. You can glue something on the bottom, such as a peanut butter bottle lid, to keep he helmet from rolling. This would make any rider excited for this spring-time holiday!
Turn It Into A Dish
As surprising as this may sound, it's actually quite possible to turn your used motorcycle helmet into a dish. Clearly it will be limited on the type of dish you can turn it into, but there are a few uses you can get out of it in the food world.
One of my favorite things I've seen a helmet turned into was a popcorn bowl. Most of the lining inside needs to be removed, cleaned, and have some sort of new protective lining inside to keep stuff from leaking out (especially for those ventilated helmets).
Watching a movie with popcorn inside a motorcycle helmet just somehow makes the movie that much better. Can you imagine how much movie theaters would charge giving out bowls like this?
Give It To Someone Who Never Wears A Helmet
Wearing a helmet is an essential part of riding a motorcycle; without it, you could find yourself in some dire situations that could impact the rest of your life. That's probably why you're researching what to do with old helmets because you're conscious about the fact that helmets expire and you need a new one.
Of course there are a hand full of riders out there that refuse to wear a helmet either for cosmetic reasons, irritation, etc. If you have an old helmet that has expired, you may want to try donating it to that friend or family member who never wears one.
Though it's expired and probably wouldn't work as well as a new helmet, it is certainly better than nothing. And perhaps because it was free, the helmet-less rider may be more willing to use it on their future rides.
How Long Do Motorcycle Helmets Last?
Like most things, helmets have an expiration date. Every motorcyclist should be aware that they need to replace their helmet every five years. The expiration of a motorcycle helmet isn't just a myth, in fact there's quite a science to the whole thing.
From a bigger perspective, it seems like helmet manufacturers set out the five year rule to sell more helmets. But the Snell foundation actually recommends it, too. Helmets go through a degradation process where the materials, glues, and liners become less effective. Face oils, make up, hair products, and cleaning products all speed up this process and it ultimately get to a point where it simply isn't near as safe to use.
Related Questions
Can motorcycle helmets be used after an accident? According to the Motorcycle Safety Foundation, it is not advised to use a motorcycle helmet after being in an accident no matter how good the helmet looks. Chances are the helmet experienced some sort of impact which lessens it's effectiveness in the case of another accident.
What are some budget-friendly motorcycle helmets for passengers? To get the biggest bang for your buck, the best motorcycle helmets for motorcycle passengers include the Triangle Full Face Motorcycle Helmet, Bell Qualifier Full Face Helmet, and the Speed and Strength SS700 Helmet. For more passenger helmet suggestions, see my full article here.