✓ SAVINGS TIP:
Find out if you're overpaying for motorcycle insurance!
Save money by comparing quotes.
Enter your zip to get started.
ZIP: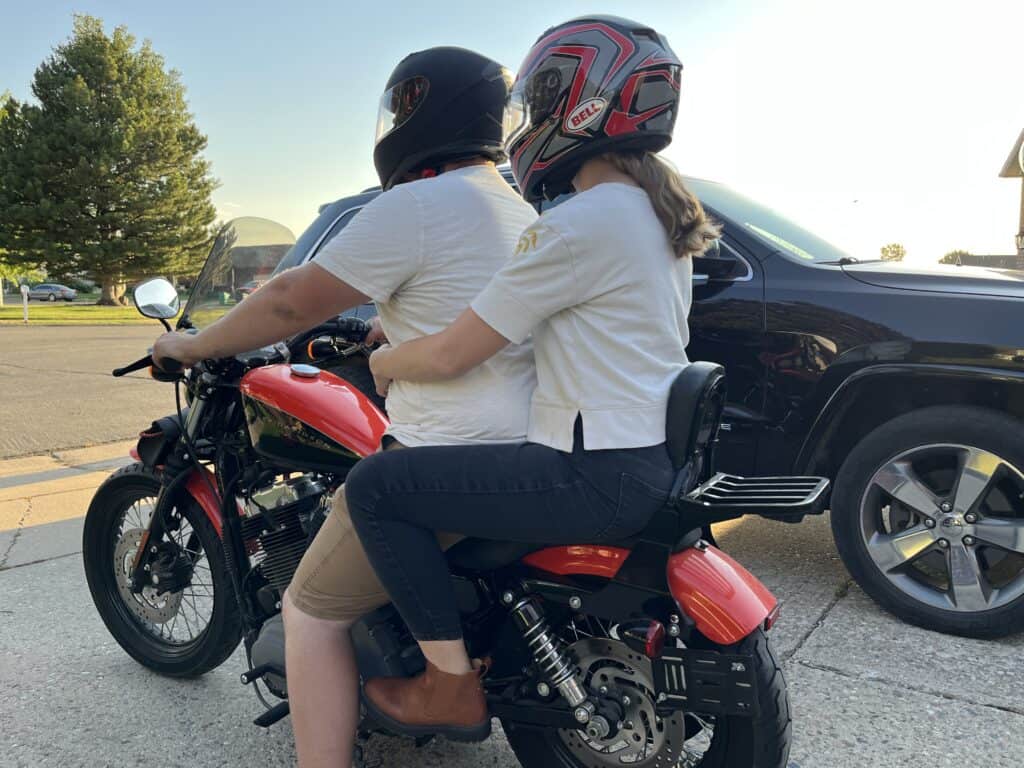 If you own a motorcycle large enough to fit a passenger behind you, you've probably asked yourself what kind of helmet you need for your passenger. It might be a little tricky if you have several different people riding with you on your motorcycle who all have different sized heads; it's hard to keep up with the different sizes. You probably don't want to have to buy a different helmet for each passenger you have.
When I was in college, I took a ton of people for rides on my motorcycles. I would look for any excuse possible to ride somewhere because I just love riding so much! Taking my first motorcycle restoration for a ride was actually my wife and I's first date.
Because I had so many different kinds of passengers on my motorcycles, I wanted to provide the safety deserved to my passengers during our joy rides. There are no universal helmets out there, but I was able to do a lot of research and test some out for myself. Here's a list of the best helmets I've found to work great for motorcycle passengers:
Triangle Full Face Motorcycle Helmet
Bell Qualifier Full Face Helmet
Fuel SH-FF0015 Full Face Helmet
Speed and Strength SS700 Helmet
WOW Motorcycle Full Face Helmet
Being a motorcyclist with occasional passengers can be a tough spot to be in. You need to keep your passengers safe by always having a helmet handy, but you don't want to pay an arm and a leg for a helmet that that will only be used occasionally. I get it because I've been there. These helmets I've suggested are nice on the wallet while providing quality safety for your passenger. I'll explain why I like each of these helmets.
Triangle Full Face Motorcycle Helmet
Aside from this helmet being quite inexpensive, the Triangle Full Face Motorcycle Helmet (link to Amazon.com) is an excellent choice to buy in case you have any motorcycle passengers come along with you on rides.
This has a simple design that is suitable for any rider, man or woman. One other thing I like about this helmet is that it has a release strap latch which makes it easy to take the helmet on and off. It also seems to have some pretty good ventilation so your passenger won't be left sweating up a storm behind you. Proper ventilation is absolutely necessary so their face shield doesn't fog up; that's the worst.
This helmet is also DOT (Department of Transportation) certified so you know it is safe for your passengers. It also has a fully removable, washable and anti-bacterial interior liner which is especially nice if you plan on having several different passengers. I'm sure your passenger will appreciate the cleanliness too. It's really gross when you have to borrow someone's helmet and it smells like a cheap bar inside.
Bell Qualifier Full Face Helmet
Though a little more expensive than the first suggestion, the Bell Qaulifier Full Face Helmet (link to Motosport.com) is another excellent choice to purchase as a passenger helmet. This is one of my favorite helmets I recommend. It's quite fashionable and actually works as a great choice for the motorcycle driver too.
It comes with a clear visor, but you have the option to buy tinted interchangeable visors depending on your preference, or perhaps depending on the preference of your passenger. The ventilation seems to be decent and the visor easily moves up and down if needed.
This helmet is also DOT certified and has proven well to take care of a motorcyclist's head in the event of an accident. It has excellent reviews and truly gives you a great bang for your buck.
One reviewer even reported that if the cheek pads are too tight or too loose, you're able to exchange the pads for a better fit rather than exchange the whole helmet itself. Not a lot of helmets offer that option.
Fuel Full Face Helmet
Again, giving a neutral yet fashionable look, the Fuel Full Face Helmet (link to Amazon.com) proves to be worthy of your purchase and used as a motorcycle passenger helmet.
This helmet has proven to be very much a life saver and provide the basic protection needed in the event of a an accident. The ventilation works good, making it so you don't have to defog your glasses at all if you plan on wearing any while having this helmet on.
This helmet is DOT approved and meets Federal Motor Vehicle Safety Standards. I find that having a DOT approved helmet is absolutely essential. If you're looking at a helmet that isn't DOT approved, it just means the manufacturer cares so little about your safety that they didn't even bother having their helmet impact tested. Or they had it tested and it failed, so just don't get a non-DOT approved helmet.
And conveniently, this helmet also has removable cheek pads for easy cleaning for those of you who plan to have several different passengers.
Speed And Strength Helmet
The Speed and Strength Helmet (link to Motosport.com) is a little different from the others in a sense that it was built for motorcycle use as well as ATVs, scooters, and snowmobiles. Honestly, you can universally use any full-faced helmet for these activities, but it gives me a little more comfort knowing it was built with other motor sports in mind. That means it has gone through testing in all those scenarios and works. Especially knowing it works for snowmobiles is a selling point for me, because that means it has good anti-fog properties.
If you're looking for a passenger helmet on a budget, this would be an excellent choice. The quality is great and feels light on your bank account.
This helmet's face shield is a must because it blocks 90% of the UV rays from the sun which makes day riding much easier and much more comfortable. This helmet is also DOT approved.
And for your convenience, the liner inside the helmet is also removable and washable. And let's face it, when we wear helmets our heads can get a bit sweaty, so this is a must!
WOW Motorcycle Full Face Helmet
A great thing about the WOW Motorcycle Full Face Helmet (link to Amazon.com) is that it comes in a variety of other colors. I personally choose neutral colors so my passenger doesn't wear a crazy color they don't like.
With a nice glossy or matte finish (whichever you prefer) on the outside and washable insides, this helmet proves to work well as a passenger helmet. This helmet yields excellent reviews, so I guess you could say "Wow is right!"
This helmet feels good and secure which will give any passenger the confidence they need to feel safe on a motorcycle ride. This helmet is also DOT approved.
Some may be a bit skeptical because of the low price of this helmet, but remember you don't need all the fancy bells and whistles on a passenger helmet because you won't be using it near as much as you'll be using your own helmet. All you need is something that will save someone's life in the event of an accident.
Sizing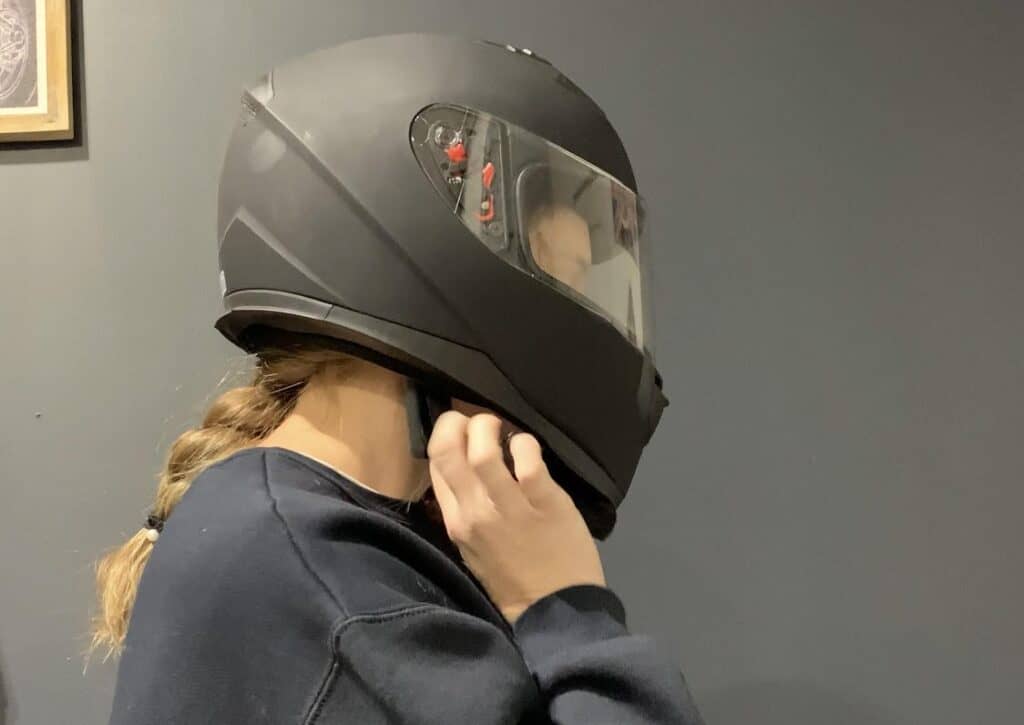 It would be a perfect world if we could get a helmet that fit everyone's head perfectly, alas everyone's head size is different and would require different sizes. You'll likely have passengers with head sizes all over the spectrum.
The average sized head for a woman is about 56 cm. – 57 cm. or about 22 in. – 22.5 in. The average sized head for a male is about 57 cm. – 58 cm. or about 22.5 in. – 23 in. There is no helmet that is a "one size fits all," but if you want to buy one helmet that will most likely fit the majority of your passengers, your best bet will be to purchase a medium sized helmet because it will generally fit a 57 cm – 58 cm head.
Be sure to check the sizing chart of the individual company. A medium sized helmet at one business may be considered a large size helmet at another place. Most online stores will specify what specific measurements and ranges each size is.
Disclaimer: if you have a passenger who is wearing a helmet you have lent them, make sure it is not too loose because a loose helmet will be less effective in case of a motorcycle accident.
If you are caught in the case of a largely oversized helmet, it is best to not have that passenger ride until you find a different helmet for them. It's better to have a motorcycle helmet a little tighter than too loose. The biggest downfall of too tight of a helmet is that you can possibly get a headache or "warm spots" from the pressure.
I'd rather take a headache than less protection.
In fact, loose helmets can be catastrophic. Having the helmet fly off is obviously one of the risks, but another risk that a lot of people don't think about is the helmet spins sideways on you. There have been plenty of riders that smack their head and as the helmet twists around it snaps their nose. A helmet is cheaper than a nose job, so just get the right helmet.
Some Other Things To Consider
You should never take a passenger on your motorcycle without them wearing a helmet. Anyone riding a motorcycle should always wear a full faced helmet. Though other less protective helmets may seem desirable, fashionable, and all around more comfortable, full faced helmets provide the best results. There are too many cases where motorcycle accidents end in major head injury or death simply because the rider chose to wear the wrong helmet.
A helmet should never feel loose, rather, it always needs to feel snug on your head. This means there should be no bobbling around when you shake your head with the helmet on.
If you want to know the exact size of helmet needed for either you or your specific passenger, measure the circumference of your head, starting about an inch above your eye brows wrapping around to about half way up the back of your head. Some motorcycle helmets will be measured in either centimeters (cm) or inches (in).
When putting on a helmet, you should have to work it a little in order to get it on; it shouldn't be an easy placement. The padding inside should be touching all parts of your head and even pushing up on your cheeks a little bit.
It's also a good idea to inform your passenger about some basic safety rules while riding in the back of your motorcycle. Communication gets a little tricky when you're out and about.
Teach your passenger about basic hand signals such as when they need to stop. Also show them where they need to hold on to and figure out what is comfortable for both of you.
It's important to remind a passenger that holding still is extremely important while riding a motorcycle; any sort of wiggling can throw you off balance, especially while turning. I learned this the hard way once as I was taking my wife for a ride on our motorcycle. She did a slight adjustment while we were turning a corner and I nearly lost balance, but luckily was able to stabilize the motorcycle.
Click here to see my guide for other helpful tips on how to be a good motorcycle passenger.
Other Gear A Passenger Should Wear
Aside from wearing a helmet, a passenger should be aware of other clothing and gear needed in order to safely ride a motorcycle. You don't want your passenger to get hurt in other ways and feel it is your fault.
A passenger should always wear long pants while riding with you on a motorcycle. Both your legs and their legs are close to some very hot pipes as well as wheels turning thousands of times a minute. Click here to see the riding pants I recommend for men and women.
Your passenger should always wear shoes that cover their whole foot and their ankle. Never sandals or flip flops! If you haven't noticed already, ankles stick out and tend to find themselves in predicaments that really hurt them. Ankles are no exception on motorcycles and they need to be covered. I can't count how many times I've burned an ankle on an exhaust pipe.
If possible, have your passenger wear a jacket of some sort, as that will provide them with extra protection. Preferably a leather jacket, but if not available, a denim or other thick material jacket will do.
Related Questions
Do motorcycle passengers legally need to wear a helmet? Generally, any passenger riding a motorcycle under the age of 21 will be required to wear a helmet. As a good rule of thumb, always have a passenger wear a helmet no matter how old they are. Remember, if you get in an accident and your passenger is injured, you and your insurance are liable for that person, so make sure they are protected.
Are cameras illegal on motorcycle helmets? This all depends on how you mount your camera. If you alter your helmet in any way, such as drill holes to permanently place the camera, then that is considered illegal. If you use any sort of strapping or Velcro without altering your helmet, you are okay in doing so.
This article has been reviewed in accordance with our editorial policy.