✓ SAVINGS TIP:
Find out if you're overpaying for motorcycle insurance!
Save money by comparing quotes.
Enter your zip to get started.
ZIP: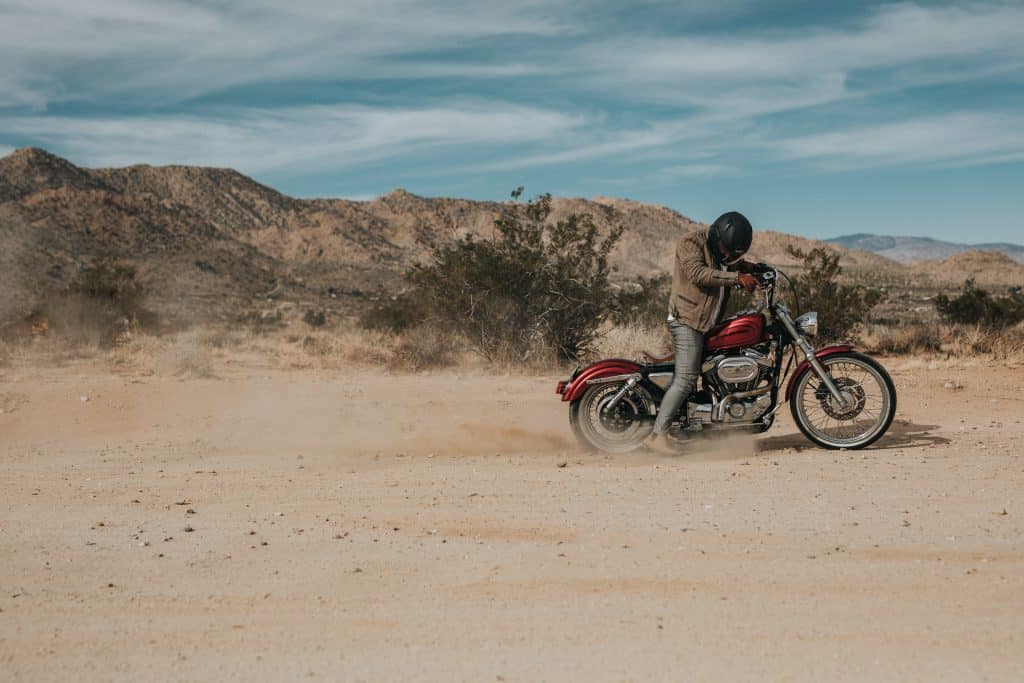 Traveling to see the country on a motorcycle is a great way to see the sights. However, not all bikes make for an enjoyable cross-country trip. Before setting off, it's good to have a plan. This includes having the right bike and equipment.
Before Traveling Cross Country
The first step to traveling across the nation is to have a plan. However, the adventure will be enhanced if there is room for spontaneity. Planning a general route allows you to get to your desired destination and any other major stops you would want to make. Allowing for some ambiguity lets you discover something new.
Another important aspect of planning ahead is planning what type of ride you are in for. There are tons of highways and byways to cruise, but wandering off the beaten path can open up a lot of possibilities. If you're strictly on the street, a cruiser or touring bike is the way to go. If you have some dirt trails you want to hit up, having a dual-sport motorcycle will allow you to explore those options.
What To Look For In A Cross Country Bike
Although the idea of riding a vintage bike into the sunset across the desert is very romantic, In reality, it can be quite uncomfortable. For a long trip, having some modern amenities makes the journey more enjoyable. Safety features, comfort niceties, cargo, and other accessories will make the long trip more doable and are available on most modern motorcycles.
But before getting into these options, it's important to consider the basics. Having a bike with a larger engine, 1000cc or more, will make highway cruising a better experience. You will be able to ride at highway speeds while having low-end torque to get up and go. Unless you are hot rodding it, a bigger motorcycle will actually do well on fuel mileage. Having a bit longer wheelbase will make the handling comfortable.
Safety features include anti-lock brake systems, lighting, crash bars, and safety clothing. Anti-lock brakes, or ABS, help the rider to maintain control during aggressive braking by pulsing the brakes to prevent skidding. Having adequate lighting, including brake lights, headlights, turn signals, and marker lights, improve visibility for the rider as well as other motorists to prevent accidents. In the case of an accident, having crash bars installed helps lessen the potential of damage and injury. Likewise, wearing the proper clothing, including a helmet, jacket, boots, and so on, provides peace of mind and protection.
What is going to be comfortable is a big deal. Stress on your back and hips when sitting for long periods of time leads to pain. Nobody wants that during a long trip, so think ahead and get a bike that will provide the most comfort for you. Some aspects to look at are seat type and height. This will vary on preference and rider size, but there are many options to choose from.
Closely related is the riding position. An upright position with the legs forward will be comfortable for a long trip. The sport riding position with the legs bent under the rider and a more leaning forward position will be less comfortable for a long ride. Finally, an overlooked comfort feature is the windshield, which diverts the force of the wind making it easier to hang on.
Fuel mileage will make your trip a bit easier on your wallet. Long trips are going to require a lot of fuel and frequent stops can be interruptive. When shopping for your cross-country bike, take into consideration the fuel economy and tank size. This can make a difference especially if you're traveling in the desert or through national parks where gas stations tend to be more scarce. A decent MPG is around 40-45 and tank capacity will be around 4-6 gallons.
Motorcycles aren't designed to carry much cargo, but on a long trip, you will need to have some supplies. Fortunately, there are options to expand cargo capacity. Saddlebags will be the preferable option for cargo as opposed to a backpack. Having extra weight on your shoulders and back will be uncomfortable on a long trip. Motorcycles are also typically a one-person ride, but there are ways to carry a passenger. Passenger seats are more than just a cushion as many have back support and armrests. There are options to tow a small trailer to haul the cargo, allowing the bike to be dedicated for riders.
Having the right accessories during the trip adds another level of comfort. Infotainment systems are more and more common on motorcycles and can be a welcome addition to the trip. Having a way to play music, audiobooks, or podcasts helps the long stretches of the road pass faster. GPS systems are also available to help navigate unfamiliar roads. Another comfort feature is cruise control. This takes the stress off of your wrist for long stretches. Newer cruising bikes come with cruise control as well as cup holders, stereos, and so on, so shop around and find what you need.
These features are only options for you to select from and your preference is what ultimately matters. If you are still wondering what to look for, hit up your local dealership or read through a few forums to look for anything else that might be available. It's worth taking some extra prep time to yield an awesome cross-country tour.
Top 10 Bikes For Cross Country Riding
Another reason these bikes are a great buy is that they last for a long time. Honda has legendary reliability and the Goldwing is no exception. This makes it convenient to find a used bike with a lot of life left in it. If you're looking for a newer model, you can rest assured that it's going to take you on as many trips as you want to take. A drawback is the fuel economy has about 38 mpg, but this is still a touch more than some of its competitors.
Harley Davidson Electra Glide
The HD Electra Glide is another classic ride. While this model can be customized to different styles, it is well-fitted for touring as a 2 seater. The Electra Glide is also known for its "batwing" fairing, which is the bodywork on the handlebars. There is also plenty of room for cargo in the hard-body saddlebags.
The Electra Glide is the final rendition of the FL series of bikes from Harley Davidson. These bikes have large frames and are equipped with the Milwaukee-Eight 107. For modern bikes, the gauges and electronics are located in the batwing fairing. The rider sits in an upright position and the bike is equipped with floorboards for a very comfortable ride.
Used bikes are still going to be a bit expensive, but they hold their value well. There are many aftermarket options to fit what you need. One negative aspect of the Electra is the fuel economy, clocking in at only about 33-38 mpg. This depends on the way you ride, but it is certainly worth considering.
BMW R1200GS
Akin to the RT, the GS an adventure-style bike, meaning it is well-fitted to go off-road as well as a cruise on the highway. There are also variations on these adaptations, including more road or off-road-biased options. The boxer engine puts out about 134 hp and the bike weighs around 600lbs. Newer models have an eco-mode and pro-mode for easier or more aggressive riding as well as traction control and ABS.
While there are no stock saddlebags or panniers, there are aftermarket options. An option that is available from the factory is the Enduro Package, which includes an engine guard and raised handlebars.
While still on the more spendy side of bikes, the GS boasts 41 mpg in with a 5-gallon tank. This makes for a great off-road adventure where gas stations will be miles away. The rider sits in an upright position with the ability to stand while navigating trails or rocky conditions. 
BMW K Series
The K Series is a sport-touring model from BMW. The K series began in the mid-1980s and offers several models and submodels. While not all models are in production, there are still some good used K series bikes out there to be had. Current models include the K1600 which is the most comparable to other touring bikes. 
The K1600 comes in the GTL, GTL, B, and Grand America submodels. The GLT and Grand America offer the most for touring, including a passenger seat. The B submodel stands for Bagger and offers a lower seat position, floorboards, and a chopped windscreen. All models come with a 6-cylinder in-line engine putting out around 100-120 lb-ft of torque for scooting around town. New models come with a built-in audio and navigation system. 
These bikes won't come cheap but do offer a lot of niceties and a comfy, yet powerful ride. The fuel mileage varies around the mid-to high-30's from a 7-gallon tank. If you have the means, a K series touring bike would make for a great cross-country ride.
Yamaha V Star 1300
The V Star has a classic cruiser look and the 1300 model will take you where you need to go. Unfortunately, 1300 is not in production and was produced between 2007 and 2017, so there are a lot of used bikes on the market for a reasonable price.
Due to its age, you won't be able to have some of the modern amenities, such as infotainment or built-in navigation. However, the low seat height, upright riding position, and a bit of juice from the engine make for a good touring ride. There are also aftermarket saddlebags, windshields, and other options. Aside from these upgrades, you won't need to do much wrenching, as the V Star is pretty dependable.
1300 gets low to mid 40's for mpg, which is very competitive with the Gold Wing or K 1600. The carbureted V-twin runs strong matched with a 5-speed trans to a drive shaft is easy to upkeep. While this may not be the flashiest option, it could be a great, lower-price option for a first-timer.
Indian Roadmaster
Another legendary motorcycle company, Indian Motorcycles, know how to make a cruiser. The Roadmaster is a revamped Chieftain, which is another cruiser. The Roadmaster has a trunk, fairings, floorboards, and other comforts for the road. It offers a 111 cubic in. v-twin and six-speed transmission which is plenty to get down the road.
The Roadmaster gets around 40mpg from a 5.5-gallon tank, which is towards the top compared to its competitors. The two-seater has plenty of cargo space between the truck and hard saddlebags. For a classic look from a legendary motorcycle, the Roadmaster is the way to go.
Kawasaki Vulcan 
The Vulcan has been Kawasaki's entry in the cruiser motorcycle market since 1984. The Vulcan has come in several sizes, but presently there are the 650 S, 900, and 1700 in production. The Vulcan 1700 Nomad and the Vulcan 1700 Voyager are similar bikes equipped for touring. With ABS and traction control as well as audio systems and passenger seats, there isn't much left to be desired.
For fuel mileage, the Vulcan can do mid-to high-30's with a 5.3-gallon tank. The v-twin puts out about 107 lb-ft of torque to get you up to highway speeds. New models have integrated storage and a plush passenger seat. The full front fairing keeps the wind and rain off of you and the overall noise of the bike is quieter compared to others. The Vulcan is another good bike for a first-timer and it can hold its own for a veteran rider. 
Yamaha FJR 1300
The FJR was introduced to the States in 2002 and has held its own as a sport-touring motorcycle. With a zippy 1298cc 4-cylinder EFI engine, it's easy to see why this makes for a great touring bike. Despite its sporty look, it is equipped for long hauls and has a passenger seat. One drawback is that the rider's legs are more underneath versus forward, which can make for cramped legs on a longer ride.
With a larger 6.6-gallon fuel tank, the FJR puts out an impressive low/mid 40's for fuel mileage. With adjustable suspension, anti-lock brakes, and sporty tires, handling is a breeze. There is a lot to love about this bike, but for the price, it's a bit difficult to not consider the BMW 1250RT, which has more features for a similar price.
Top 3 Picks
Best Sport Touring: BMW R1250RT
The RT is a bit lighter than other BMW touring bikes, which makes for better, sportier handling. This model is a sport-touring bike but is still comfortable on those long stretches of empty road. It's worth mentioning that the R1250RT is an award-winning for the best sport-touring bike for a couple of years and it lives up to the hype. 
These bikes have a boxer engine which puts out around 136 horsepower. This makes zipping through the countryside a breeze. Alongside that nice power comes some great amenities, including traction control, adjustable ride height, and an adjustable windshield. These along with a few more options make this a luxurious ride.
The BMX R1250RT has a reported 47 MPG, which is a fair bit higher than other touring bikes. However, this comes with a price as these bikes are on the higher end. But if you're looking for a bike that you can take just about anywhere in any condition, this is the bike for you.
Best Classic Touring: Honda Goldwing
The Honda Goldwing is a classic standard for touring bikes. First available in 1975, the Goldwing has gone on to be one of the most popular bikes in its class. With over 640,000 sold in the U.S., there are plenty to come by. This model was introduced at a time when people were looking for a touring bike but didn't want to break the bank. Honda has pandered to that target market ever since.
There are a few reasons why the Goldwing is a great touring bike. First off, there are engine options, such as the flat-four or flat-six with carburetors or fuel injectors. Furthermore, the fairings not only block the wind from carrying you off the bike, but they also house the amenities, such as the infotainment system and cup holders. This balance of power and comfort makes for an ideal touring bike. There are also towing options for the Goldwing for those who need some extra gear.
Top Pick for Dual-Sport: Suzuki V-Strom 
Another dual-sport option, the Suzuki V-Strom is a well-rounded machine. The 1037cc V-twin was originally designed for the TL1000S and TL1000R sport motorcycles, but the fuel-injected engine fit nicely for an adventure model. Produced from 2002-2019, the V-Strom also features traction control and ABS for additional safety. 
Options include clip-on saddlebags, an informative dash display, and slim fairings. While it has a one-piece seat, it is suited for a passenger, but may not be as plush as some other bikes. MPG ranges from high 30's to low 40's with a 5.3-gallon tank. If you are into a dual-sport experience, this bike will offer a great ride.
This article has been reviewed in accordance with our editorial policy.