✓ SAVINGS TIP:
Find out if you're overpaying for motorcycle insurance!
Save money by comparing quotes.
Enter your zip to get started.
ZIP: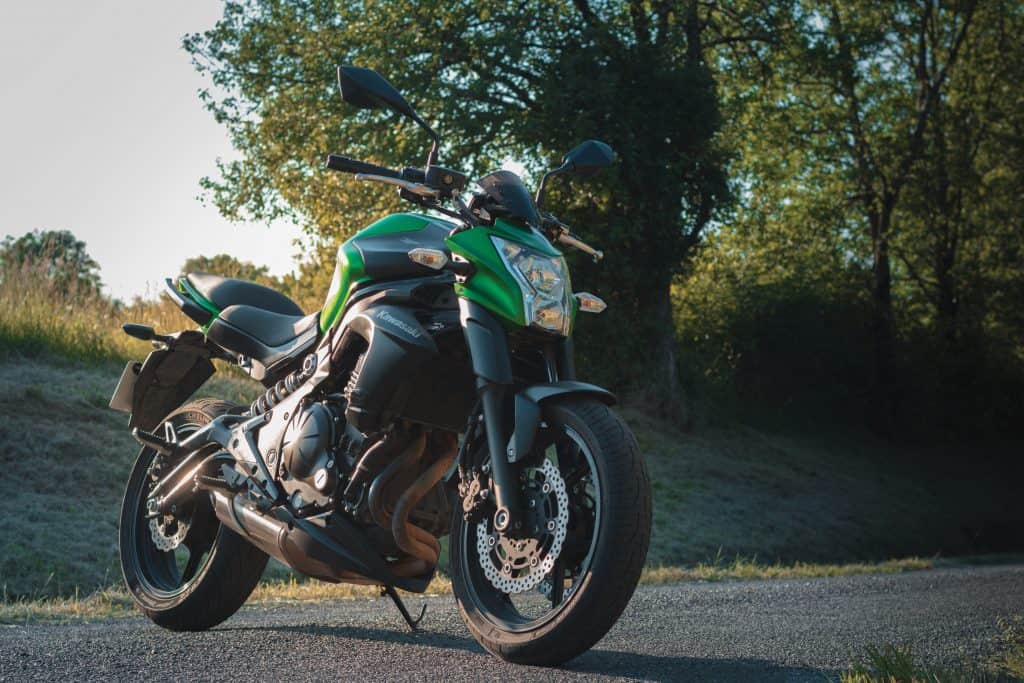 If you are looking to buy a motorcycle that will get you to work, you may be interested in which are the best bikes. A lot of people gravitate towards motorcycles when it comes to commuting.
So what are the best motorcycles for a commuter? The top best ten bikes for the average commuter are the BMW F900XR, the Kawasaki Z650, the Zero SR/F, the Triumph Street Twin, Suzuki SV650, the KTM 390 Duke, the Kawasaki Z400, the Honda CB300R, the BMW G310 GS, and the Ducati Monster 821. All of these are great choices, each with different qualities that set them apart from one another.
In this article, we will discuss the top 10 best commuter bikes out there. Whatever your motivation for getting a motorcycle commuter, we will break down what makes them a great choice and our personal favorites.
Criteria For Determining Best Motorcycles To Commute
There are tons of great bikes out there that could not make this list. If you are looking for a specific bike that is not on this list, that does not necessarily mean it is a bad bike. There are tons of great bikes, depending on what you are looking for. Some bikes may be more exciting commuters than others, while some offer superior comfort. For this list, we found bikes that satisfied most of the criteria. If your needs are more suited towards a specific characteristic (i.e., performance or comfort) there may be other bikes out there that would be a better fit for you.
So, what exactly makes a great commuter motorcycle? There are a lot of important factors that go into making this kind of bike. The very first and most important characteristic is comfort. A commuter bike is likely something that you will ride to and from work every single day. You may even ride it around other places regularly. As such, you want it to be comfortable. Depending on how far your commute is, you could be sitting on your bike for an hour or longer, going one way. Doing that every single day on an uncomfortable bike can get very old quickly. That is why comfort is so important in choosing a commuter bike.
Another important thing to consider is efficiency. Motorcycles are one of the cheapest modes of transportation out there. The initial cost of a motorcycle is far less than almost any other means of commuting vehicles. They also offer outstanding fuel economy. If your goal is to save money on fuel from your daily commute, getting a motorcycle is a great choice. As such, a great commuter bike gets great gas mileage.
Another important, yet forgotten factor when considering a commuter, is the performance of the bike. If you are riding a bike every single day, it can get boring riding an underpowered bike. If you are sitting in an office all day, your exhilarating ride to and from work could be the highlight of your day. Choosing a bike that can still excite you, while being comfortable and offering great gas mileage, makes a bike the ultimate commuter.
The last factor that we will be weighing in on is safety. For a commuter that you are riding regularly, the chances of you getting into an accident become higher. As such, you want your bike to be as safe as possible. Your bike should be able to help you avoid accidents as much as possible. This is possible with things like ABS and ADAS systems.
In big cities, you can save yourself a lot of time during rush hour by being able to squeeze between the stopped traffic. Motorcycles are also very attractive commuters as they often get outstanding gas mileage. Whether your commute is through a busy city full of traffic, or an hour drive down the freeway, you will appreciate the gas savings that come with owning a motorcycle.
Top Ten Best Commuter Motorcycles
BMW F900XR
The first bike to make our list is the BMW F900XR. This is a great all-around commuter bike. It is a comfortable yet sporty bike. It rides smoothly, has a comfortable seat and riding position. It also has enough power to keep your daily commute exciting. The only downside to this bike is that it has a relatively small gas tank. It is still plenty to get you to and from work every day, but you will find yourself filling it up more frequently than others, solely due to the size of the tank.
Kawasaki Z650
The next bike on our list is the Kawasaki Z650. This is another great all-around bike for a great price. Starting at $7249, this bike is a steal of a deal. It offers great comfort, a decent amount of power, and lots of great features that make the motorcycle, very rider friendly. These include smartphone connectivity, LED lights, ABS, and a digital cluster. All these features make this bike a great choice for a commuter.
Zero SR/F
We had to include this bike on our list for very obvious reasons. If you are very interested in saving money on fuel, this is the best bike out there for one simple reason. It does not run on gas. This bike is fully electric. It has a 161-mile range on a full charge. That is plenty to get you to work and back every day. Then just plug it in overnight, and you have got a full charge in the morning for another day of work.
This bike also features quite a bit of technology. It connects to your smartphone through the cloud. This will let you view info about your bike, its charging status, information about different rides, and a whole bunch more from your phone. The major downside to this bike is its price. This one starts at a shocking $19,495. If you can swallow that price, this is an excellent commuting bike.
Triumph Street Twin
Next up is the Triumph Street Twin. This bike made it onto our list due to its excellent comfort. The bike itself is relatively simple. You get a 900cc engine, a modest amount of power, good sound, and very simple technology for a decent price. This bike's main selling point is the comfort that it offers. The seat position is great for commuters. It also has a low handlebar that makes it great for long rides. Shorter riders will greatly appreciate the comfort of this ride. This bike also features some very classic styling.
Suzuki SV650
This list would not be complete without a Suzuki bike somewhere on it. Rightly so, the Suzuki SV650 has claimed a spot as one of the best commuter bikes out there. As far as what makes a bike a great commuter, this bike meets all the requirements. It offers great comfort with stiff, yet forgiving suspension. You will get about 50 MPG. You have also got 72 horsepower. All these things combined, with a reasonable starting price of $7100, make this is an excellent commuter motorcycle. You know that you can trust the Suzuki name to meet and exceed your expectations.
KTM 390 Duke
The KTM 390 Duke has quickly been gaining recognition as one of the most "bang for your buck" bikes out there. This bike offers just about everything that you could want for an outstanding price of less than $5000. At a glance, the styling on this bike is amazing. It looks incredibly sporty.
It backs that look up with quite a few performance upgrades. It offers racing shocks, Brembo Brakes, and Bosch ABS. It is a very agile bike with plenty of power for highway riding. The major downside to this bike is that it is not nearly as comfortable as most of the other commuters on this list. While it is not terrible, it's not quite as nice as some of the others. If you can withstand that, this bike is an amazing deal.
Kawasaki Z400
Next, we have a direct competitor for the KTM 390 Duke, the Kawasaki Z400. This bike competes with the Duke as the most "bang for your buck" bike. Like the KTM, this bike is very agile. The super light-weight design allows for you to easily maneuver about. You have 49 horsepower, which is plenty to get this lightweight bike moving quickly. One of the best commuter perks of this bike is it gets about 66 MPG and can hold 3.6 gallons of fuel. That is plenty for your commuting. This one also has an amazing starting price of $5000. If you are looking for a sporty commuter, you will have a hard time choosing between this and the KTM 390 Duke.
Honda CB300R
Another sporty commuter would be the Honda CB300R. This bike, offers great agility, acceleration, speed, and control, even though it's a lot smaller than a lot of the cruisers and other commuters out there. While not as high-performing as the KTM 390 Duke or the Kawasaki Z400, this bike is still pretty quick. What really sets this bike apart as a great commuter, is the bike's comfort and fuel economy. This bike gets almost 80 miles per gallon. If you are trying to save fuel, this bike is a great choice. Even with a relatively small fuel tank, you can still go almost 200 miles thanks to the bike's fuel economy. The seat and riding position also offers excellent comfort. This bike will not wear you out on your daily ride.
BMW G310 GS
If you are commuting on the highway, the BMW G310 GS is hands down one of the best bikes that you can get. The first thing that you will notice with this bike is that it looks great. The styling is very sleek and the compact design of the bike makes it great for a long commute. It offers sufficient power and speed thanks to its 313cc engine that delivers 34 horsepower. You also get many technologies and safety perks with this bike, including ABS and a nice instrument cluster. This bike also comes with an adjustable seat so you can move it to whatever is the most comfortable for you on your long commute.
Ducati Monster 821
If you are willing to spend a little bit more money on your commuter, the Ducati Monster 821 is a great choice. This bike brings a great amount of performance, power, and speed to the table. Much of the technology and performance on this bike comes directly from its big brother, the Ducati Monster 1200. Now with a slightly smaller engine, you still have plenty of power for your daily commute and some excitement but at a much more comfortable and manageable level. This bike also offers decent comfort, and the styling looks absolutely fantastic.
Top 3 Best Choices
As you can see, there are a ton of great bikes out there. If you are looking for a bike to take to work and back every day, there are tons of great options available to you. Some offer superior performance, comfort, technology, or fuel economy over others. Each bike has its own strengths and weaknesses. There is always a perfect bike for every rider out there.
Now we wanted to break down our top 3 commuter bikes from this list. Coming in as the number 3 commuter bike, we have chosen the Zero SR/F. As this bike was the only electric bike on the list, we just had to include it in our top 3. With a 161-mile range, you can easily get around town, to work and back every day, or wherever you need to go. Then just plug it in overnight and you have got a full charge to start every day. No more time spent at the gas station and no more money spent on gas. It also offers some of the best technology available on any bike. If these things are attractive to you, this is the perfect commuter bike, if you can swallow the initial cost.
Number two on our list is the Suzuki SV650. This bike is just all-around fantastic. As far as commuters go, this checks all of the right boxes and some more. If you are in need of a very comfortable ride, this is a great choice for you. If you are looking for power, this is, again, a great choice for you. With 72 horsepower, you will never be wanting more. You have all of the power you need to get around traffic and to avoid being rear-ended. While the fuel economy is not as high as some of the other bikes on this list, 50 MPG is still better than almost any car you can get. All of that comes for the low price of about $7,000.
Our number one commuter bike is definitely the Kawasaki Z400. When most people think of a commuter, this is not always the bike that they think of. We just had to list it as number one, as this bike is just truly a fantastic deal. For $5000, you can get a bike that does everything a commuter needs to do. You get an extremely light, narrow, and agile body. You can easily weave in and out of traffic and pull through tight parking lots. You also have 49 horsepower on an insanely light bike. That makes things super quick. You also get 66 MPG with a 3.6-gallon tank. That means you will rarely have to fill up. This bike is hard to beat because it has all the factors a commuter motorcycle needs.
That is our top 3 commuter bikes. As we mentioned, there are tons of great commuters out there. It is up to you to decide what bike best fits your needs. Finding the perfect bike for you might not always be easy, but we can guarantee that it is out there. You just need to find it.
This article has been reviewed in accordance with our editorial policy.