✓ SAVINGS TIP:
Find out if you're overpaying for motorcycle insurance!
Save money by comparing quotes.
Enter your zip to get started.
ZIP: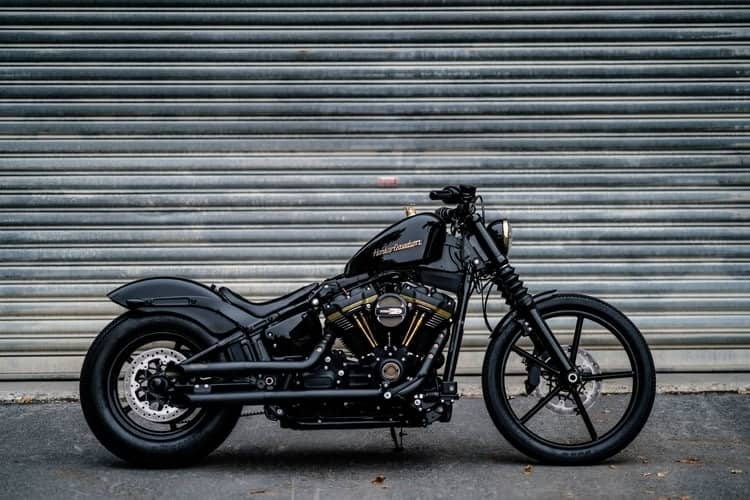 Modifying your motorcycle is a rewarding way to make it truly your own. There are plenty of ways to modify your motorcycle and one such way is turning it into a bobber. This article will dive into what a bobber is, what models work best as bobbers, some factory-built bobbers, and some how-to tips.
Best Motorcycles To Bobber
Let's get right to it. To begin a bobber project, you will need a donor to work with. There are a ton of options and some bikes can be pricey or unavailable. Below are a few models that work great for a bobber:
Harley Davidson Sportsters
Harley Davidson bikes are always a classic. The Sportster model was introduced in 1957 and offers a ton of submodels. Engine sizes are usually 750cc, 883cc, and 1000cc and the soft tail suspension makes for a smoother ride. Depending on the condition, you can pick up a Sportster starting around $3,000.
Harley Davidson Dyna family
The Dyna was designed as an offshoot from the Sportster model by combining the Sportster front end with the engine and frame of bigger bikes. The Harley Davidson Dyna has quite a few submodels over the production years. The Dyna runs a bit more expensive, starting at around $4,000-$5,000.
Yamaha XS650
The XS650 is an older bike with the last production year being 1983. These motorcycles can be stripped down for a very bare-bones look. While the 650 isn't the most powerful engine, the lack of electronics makes it easy to modify. The XS650s are less expensive–around $1,000 up to $5,000–and that might make finding one challenging.
Yamaha V Star
The V Star was Yamaha's way of entering the cruiser bike market. With the 250, 650, 950, 1100, and 1300 options, there is something for everyone. These have a double backbone frame which changes the types of gas tanks you can use. Overall, the V Star makes a great bobber with a comfortable ride. Pricing will depend on condition and size, but the range starts around $2,000 for the 250s.
Honda CB Series
The Honda CB series is a classic-looking cruiser. Common engine sizes are 250, 750, and 900 and are all fairly available to buy used. Pricing depends, but $2,000 will get you a good bike. Honda engines are very reliable and the framework offers room to work. The CB's are also popular as cafe racers.
You will likely want to start with an inexpensive motorcycle. Combing through classifieds is a good place to look. If this is your first build, get something super cheap. Alternatively, buy something that may cost more but also that has a good resale value. This helps keep your overall cost lower.
Factory-built bobbers
As the bobber style became popular, manufacturers caught on and designed some factory bobbers. After WWI, motorcycle owners commonly customized their bikes as motorcycle manufacturing ramped up. This trend was especially strong in the 1950s and 1960s, which led to Harley Davidson experimenting with a custom bike, the Harley Davidson Super Glide. Since then, other manufacturers have produced bobbers as the popularity of custom-looking bikes has increased.
Buying a factory bobber is a way to own a bobber without having to hack up an old bike. Chopping and wrenching aren't for everyone and creating a custom bike that is functional as well as stylish can be time-consuming and requires some expertise. For those not interested in that process, below are some of the best factory-built bobbers:
Triumph Bonneville Bobber and Bonneville Bobber Black
Triumph bikes are one of the first motorcycle producers and have legendary style. Introduced in 2017, the Bonneville Bobber captures the 30's racing style in a modern way. Triumph also released the Black edition, which is a blacked-out version of the original with fatter tires. The 1200cc engine pushes 77hp for a sporty ride. These bikes fetch a pretty penny, starting at around $8,000 for the first model year.
Indian Scout Bobber
Indian Motorcycles are another early, legendary motorcycle manufacturer. The Scout was introduced in 2015 and was the motorcycle of that year. It offers a 1133cc V-twin and an aluminum cast frame with just about everything painted black. The Scout Bobber is a factory customized version of the Scout, featuring chopped fenders, a lowered seat, lower handlebars, and a side-mounted license plate holder. A used Scout Bobber will run about $7,000-$8,000.
Harley Davidson Street Bob
This Softail HD Street Bob is a descendant of the Dyna family, which was one of the first factory bobbers. The 114 cubic-inch (1870cc) engine gives a classic Harley Davidson ride and the bobber features mini ape-hanger bars, a dropped seat position, and bobbed fenders. While most of the bike is blacked out, there are a few tank/fender color options available. A used Street Bob will set you back between $5,000-$6,000, but this American machine has a large used market.
Harley Davidson Iron 1200
Another Harley factory bobber is the Iron 1200. This newer model offers a bobber style with some modern features. The fuel-injected pushrod V-twin Evolution engine offers classic Harley power. While the seat height is a bit higher than other bobbers, the mini apes and retro paint give the Iron 1200 the classic look. A used Iron 1200 runs around $8000 and seems to hold its value well since the 2021 model starts at $9,999.
Yamaha Bolt R-Spec
The Yamaha Bolt is a line of cruiser models introduced in 2013, stemming off the Starcruiser line. These are great for aftermarket customization and as such are pretty popular. The 950cc class motor is fuel injected and offers nice low-end power. It has the low-set seat and minimized features on a full-suspension frame. The older models come in black or grey colors, but the more recent models offer a few more colors. On the less-expensive end, used models start around $4,000 and up.
There are other factory bobbers available, but these models prevail in popularity. Manufacturers are continuing to produce them, some with more available features, so the future market for used factory bobbers will only increase. As some of the older models continue to age and the price gradually drops, they will make for great bobber projects.
What Is A Bobber?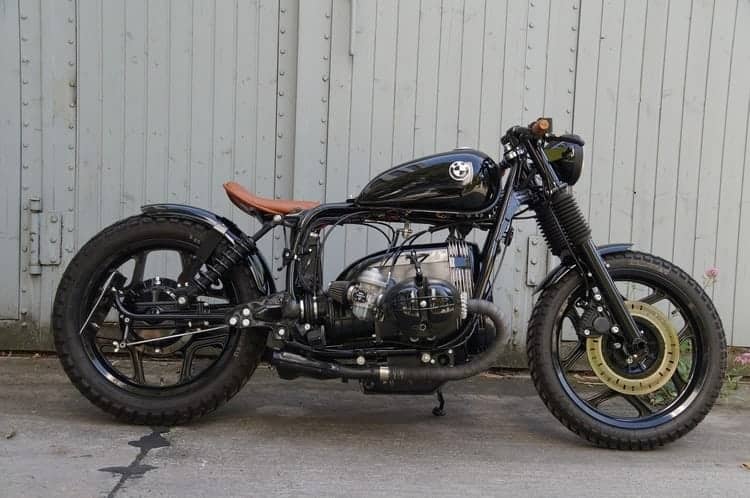 Let's get some clarification here; a bobber is a style of custom street motorcycle. The idea behind these modifications was to reduce the overall weight of the motorcycle to enhance the power and speed. It is defined as having a shortened rear fender, or "bob-tail". Other defining features of a bobber are stripped-down bodywork and no front fender on a stock frame.
Bobbers also have minimal suspension. The forks have shocks or springer suspension, but the rear suspension is often deleted. The seat will have spring suspension for some comfort, but it won't be something comfortable for a long ride. The seat is also set fairly low in reminiscence of early racing motorcycles.
The bobber style began with early motorcycle racing. In the 1920s and 1930s, motorcycle racers would strip down or cut away unnecessary components from their motorcycles to gain power. Racers weren't overly concerned with how the bike looked as long as it would perform. It wouldn't be until after World War II ended that people began to associate motorcycles with style. This is when paint jobs became a big deal and different custom motorcycle styles began to emerge. Today, most motorcycles are ridden for pleasure versus sport, but the styles of a racing motorcycle are still popular.
Bobbers are usually based on a cruiser-style motorcycle. These motorcycles give you a more upright riding position and offer a variety of engine sizes. This style also offers some attractive lines in the frame and forks that give you a good foundation to build on. Depending on the model, there are also a lot of parts to choose from when formulating your design.
How To Make A Bobber Out Of Your Cruiser
There is a general guideline for what a bobber should look like, but there is no exact formula. Some common modifications are chopping the fenders, changing out the seat, removing extra parts, and toning down the paint.
Shortening or removing the fenders gives the bike an aggressive racer look that is reminiscent of the original bobbers of the 1930s. This also goes for removing extra parts, like the windshield, saddlebags, crash bars, body panels, and so on.
Bobbers usually have a single seat that is set fairly low. Trading out seats can be a decently simple modification. Likewise, adding some paint can be a quick customization and it's a way to be creative.
After starting with these basic steps, pursue your vision and design. There is no formula to follow. It is totally up to you how you want your bike to look despite what the bobber purists might say.
We have created an entire video series about how to restore a motorcycle from start to finish. Within this series includes tips and tricks you won't find anywhere else online as well as tutorials on hard to tackle components such as electrical, body work, and carb rebuilds. Click here for more information if you're interested in restoring or building your dream motorcycle!
Some Things To Know Before You Start
There are a few things to consider if you are interested in creating your bobber. Remember that creating your bike is more about your style and ideas versus fitting a definition. There are ways around starting from scratch, too. Building your bobber will take time and this section will discuss how to get through it.
It's important to have a budget before starting. Be responsible when budgeting and use it to guide your design. There are a ton of modifications you can do and a lot of ways to do it inexpensively.
The design stage may take a while and it's important to stay open to new products and ideas. There is also a balance between doing too little and too much. A bobber is typically a stripped-down bike; it's up to you how to define that for your motorcycle.
If you are coming up short on design ideas, there are a few companies that offer bobber kits. Key elements of a bobber are packaged into a bolt-on kit that will quickly change the look of your bike. Bobber kits usually include fenders, seats, lights, and sometimes handlebars, along with other optional accessories.
There are several companies that specialize in building custom bobber parts. The advantage of this is it allows you to customize a unique kit. Looking through parts can also build inspiration for your design.
Finally, remember that the payoff will be worth it. It may be tempting to rush to make the bike rideable, but there is no substitute for doing it right the first time. Completing a custom build is very rewarding and riding down the street turning heads adds to that feeling.
DIY Bobber Tips
So, you have committed to building your bobber and have a motorcycle to mold into your creation. Now what? Deciding where to begin is a bit confusing. Furthermore, deciding what exactly to modify can be tricky. Here we will go over a few DIY tips, sources for info and inspiration, and a few ideas to help you along.
When designing how you want your bike to look, it can be helpful to have a visual aid. Here's a trick to drawing up a design for your bike. First, get a picture of the base model of your bike off of the internet. You want to find the most basic version of your bike. From there, you can use Photoshop to erase parts of the stock bike that you don't like or add in aspects that you do like. If you aren't handy with Photoshop, there is an "old school" way to do this. Print off the picture of your bike and trace it onto a sheet of paper. From there, you can erase or draw in aspects of the bike to make it your own. Draw up a few different versions to see what will work best.
Along with designing and bike building in general, it is helpful to have someone you can bounce ideas off of. Having someone who is also into motorcycling can be especially helpful because they will have a feel for what you're doing and have some general motorcycle know-how. If you don't have anyone like that in your life, that's fine. As long as you have a friend, spouse, significant other, sibling, parent, neighbor, etc., who is willing to take a look at what you're doing and offer a different perspective helps you to see things you might have missed.
The internet is a great way to find ideas, inspiration, and how-to's when building your bike. Joining a forum for bobbers or your specific bike model lets you in on discussions surrounding what you are trying to accomplish. Similarly, there are many Reddit forums and other social media groups dedicated to motorcycles, bobbers, etc., where you can ask questions or review other discussions. Lastly, Pinterest isn't just about mason jar decor and gluten-free bread recipes. It is also another place to find bobber ideas and you can save those ideas to refer back on. Check out our list of recommended tools by clicking here for a list of tools that would be useful during a bobber transformation.
Below are a few ideas to give your bike a bobber look:
Fatter tires. One simple way to get that bobber look is to get some fatter tires. That being said, there is only so much bigger you can go before having to modify the frame or forks. Study up on how much space your bike has before getting too far along.
Gas tank. Swapping in a different gas tank changes up the look of the bike drastically. There are a ton of options to sort through, but not any tank will fit any bike. A single backbone bike frame is the best to swap in a tank versus a double backbone frame. Paint your new tank and/or add a custom decal or sticker for a completely unique look. For more information about the best paint to use on a motorcycle gas tank and/or how to paint one, see our other article by clicking here.
Exhaust wrap. Wrapping the exhaust gives a bike a custom look. Doing this yourself can be a little involved as you will likely want to remove the exhaust headers. But with a little patience and the better part of an afternoon, installing an exhaust wrap will help in exhaust heat management. See our other article here to learn more about the pros and cons to exhaust wrap.
Switch relocation. If you can find a way to clean up the handlebars, you will achieve that stripped-down look. Relocating the killswitch, light switch, and choke lever to under the seat or under the tank gives the bike a clean look. This may be a bit tricky and may require some brainpower, but there are ways to do it and make it look nice.
Fake oil tank to house electronics. There are many examples of people relocating the electronics and ignition of the bike into a fake oil can. The can is usually mounted under the seat with all the wiring ran through the frame tubes. This project can also be a bit involved, but the result looks great. This also gives you another chance to practice your painting skills.