✓ SAVINGS TIP:
Find out if you're overpaying for motorcycle insurance!
Save money by comparing quotes.
Enter your zip to get started.
ZIP: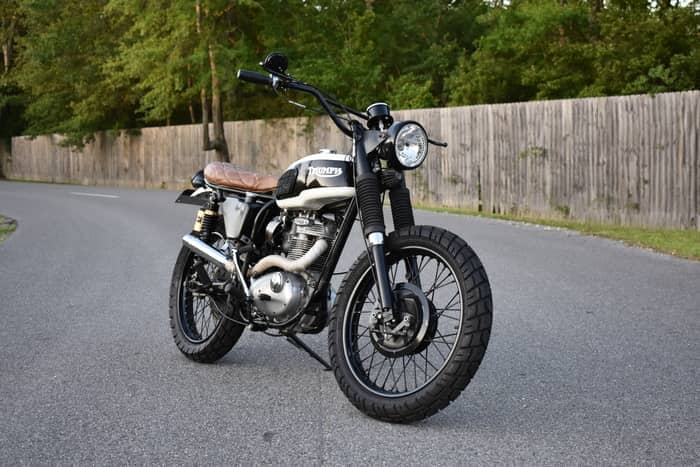 There are some motorcycles that really stand out from the crowd, sometimes because they're wild, rare, or because pop culture has immortalized it through a movie or tv show.  In the article below we'll discuss the most famous motorcycles of history and what made them so famous.
So, what are the most famous motorcycles of all time? The most famous motorcycles are:
Steve McQueen – 1961 Triumph TR6
Evel Knievel – Harley Davidson XR750
Burt Munro – 1920 Indian Scout
James Dean – 1955 Triumph Trophy 500
Peter Fonda – 1952 Harley Davidson Hydra Glide
Tom Cruise – 1985 Kawasaki GPZ900R
The 6 motorcycles listed above are easily the most famous motorcycles in the world, but there are dozens of other motorcycles that are almost as famous and deserve mentioning. This wouldn't be a complete article without listing some of the others that have made an impact on the motorcycle culture in the world. Some other famous motorcycles include:
Captain America – 1942 Harley Davidson WLA "Liberator"
Captain America – 2012 Harley Davidson Softail Slim
Captain America – 2014 Harley Davidson Street 750
Winter Soldier – 2016 Harley Davidson Street 750
Wolverine – 1963 Harley Davidson Duo Glide
Batman – 2012 Batpod
Robocop – Kawasaki Ninja ZX-10R
The Bride (Kill Bill) – Kawasaki ZZR 250
Black Widow – Harley Davidson Livewire
Judge Dredd – Lawmaster
Tron – Light Cycle
Dodge Tomahawk Concept
1934 BMW R7 Concept
Ghost Rider – Hell Cycle
Tom Cruise (MI2) – 2000 Triumph Speed Triple
Tom Cruise (MI3) – 2005 Triumph Bonneville
Tom Cruise (MI Rogue Nation) – BMW S1000RR
Tom Cruise (MI Fallout) – BMW R nineT
Green Arrow – Ducati Diavel
Green Arrow – Ducati Monster
Charlie Hunnam – Dyna Road Glide
Ewan McGregor – BMW R1200GS
Indian Larry Custom Choppers
Keanu Reeves – ARCH Method 143
Keanu Reeves (John Wick 3) – Yamaha MT-09
Sylvester Stallone – Yamaha XT250
Angelina Jolie – 2009 Triumph Street Triple R
Angelina Jolie – Yamaha TRX850
Arnold Schwarzenegger – 1991 Harley Davidson Fatboy
Ryan Reynolds – Triumph Thruxton Cafe Racer
Ryan Gosling – Honda XR650L
Marlon Brando – Triumph Thunderbird
James Bond (Skyfall) – Honda CRF250R
James Bond (Quantum of Solace) – Honda Montesa Cota
James Bond (Tomorrow Never Dies) – BMW R1200C
James Bond (Diamonds Are Forever) – Honda ATC90
Jack Ryan – 2014 Ducati Diavel
Captain Kirk – Hilts PX70
Che Guevara – 1939 Norton 500
Tim Allen – 2007 Black Fatboy
John Travolta – 2007 Screamin Eagle Fat Boy
Carrie Anne Moss – 2001 Ducati 996
Matt Damon – Honda Cota 4RT
Megan Fox – 2009 Aprilia RS 125
Jet Li – 2007 Confederate X132 Hellcat
Mad Max – 1977 Kawasaki KZ 1000
Jay Chou – 2011 Harley Davidson V Rod Muscle
Milla Jovovich – 2001 BMW R1150 R
Steve McQueen (Hilts) – 1961 Triumph TR6
In the 1963 film "The Great Escape" Steve McQueen rode a 1961 Triumph TR6 through the hills of Europe trying to get away from his captors during the war. This scene has become one of the most famous motorcycle chase scenes in cinematic history.
The exact motorcycle that he rode during the production of the film can be seen in person at the Triumph manufacturing plant in Hinckley, England. The motorcycle was disguised as a BMW R75 during filming to make it look like he stole a German soldier's motorcycle.
McQueen always loved the Triumph TR6 model and actually raced professionally on it, so he convinced producers to let him ride it during filming of the movie.
Evel Knievel – Harley Davidson XR750
Evel Knievel infamously rode a Harley Davidson XR750 for most of his stunts, painted in red white and blue like the american flag. He attempted 75 jumps in his career and completed over half of them, the other half didn't end so well.
Many of his famous jumps ended in horrible injuries and broken bones, which actually boosted his popularity with viewers throughout his career. Television providers always saw a boost in ratings after one of Evel's failed jumps.
Many of his motorcycles have ended up at auctions and in museums around the country. So if you can manage to find one of these motorcycles for a decent price then buy it!
Burt Munro – 1920 Indian Scout
Burt Munro is a personal hero of mine. He was born in New Zealand in 1899 and bought his first motorcyle when he was 15 years old. He sold that first motorcycle and bought an Indian Scout in 1920 and modified it over and over between 1920 and 1962.
He saved up his entire life for a ticket to the Bonneville Salt Flats outside of Salt Lake City, Utah. He finally arrived at the age of 63 and did so well that people in the US funded his return trip in 1967 to come back and compete.
In 1967 at the age of 68 he broke the land speed record at 183.58 miles per hour, which record still stands. He also still holds the title of the fastest Indian in the World. There was a movie released about his life in 2005.
James Dean – 1955 Triumph Trophy 500
The last motorcycle that James Dean ever purchased was a 1955 Triumph Trophy 500. Although he owned this motorcycle for the least amount of time, he said it was his favorite one he ever rode. There are more pictures of him on his Triumph than any of his other motorcycles.
James Dean grew wildly in popularity even though he died at the young age of 24. He only ever starred in 3 large movies but his fan base was worldwide and his image has left a lasting impact on motorcycle culture.
Dean was killed in an automobile accident in California while driving his Triumph convertible to the racetrack, he T-boned a driver who was not paying attention and turned in front of him.
Peter Fonda (Wyatt) – 1952 Harley Davidson Hydra Glide
Peter Fonda will forever be famous in the motorcycle community for his 1969 role in the movie "Easy Rider". He played a free spirited man named Wyatt who sold a huge load of cocaine in Mexico and was headed to New Orleans for the annual Mardi Gras celebration with his riches.
The story is about all of their mishaps along the way from Mexico to New Orleans and the interesting people they meet. The 1952 Harley that Peter Fonda rides in the movie has been auctioned off quite a few times since the movie was released and was last sold in 2014 for close to $1 million. This makes it one of the highest auctioned motorcycles in history.
"Easy Rider" had a huge impact on chopper culture in the late 60's and early 70's and continues to be one of the most famous motorcycle movies to this day.
Tom Cruise (Maverick) – 1985 Kawasaki GPZ900R
In the 1986 film "Top Gun", Tom Cruise who plays a fighter pilot nicknamed Maverick has several iconic scenes on the famous Kawasaki GPZ900R. The most famous scene is when he is accepted into the Top Gun program and he rides off into the sunset on his motorcycle next to a fighter jet.
Kawasaki motorcycle sales saw a huge jump in 1986 and 1987 from this movie and the California bullet bike culture can also claim roots from the film.
The exact GPZ900R used in the first "Top Gun" film is going to make a brief cameo in the upcoming sequel since it was such a big part of the first movie, and the viewers wanted to see it again.
Chris Evans (Captain America) – 1942 Harley Davidson WLA "Liberator"
In the 2011 film "Captain America: The First Avenger", Steve Rogers played by Chris Evans rides a 1942 Harley Davidson which had been highly modified by Howard Stark for combat use. Stark added gadgets and reinforcements to the motorcycle to be able to handle the rigor that Rogers would put it through on the battlefield.
Captain America uses this motorcycle to ride head on into Red Skull's base and take out a whole squadron of HYDRA soldiers using built-in gadgets on the motorcycle.
Several decades later, Rogers sees a replica of the motorcycle in the Smithsonian Museum in Washington DC. The real motorcycle used for filming is owned by Marvel, a subsidiary of Disney, and is stored at an undisclosed location in case it will be used for future filming.
Chris Evans (Captain America) – 2012 Harley Davidson Softail Slim
In the 2012 film "The Avengers", Captain Steve Rogers rides a 2012 Harley Davidson Softail Slim as his daily ride between work and home.
Sadly, not much is shown of the bike during the movie.
Chris Evans (Captain America) – 2014 Harley Davidson Street 750
In the 2014 film "Captain America: The Winter Soldier," Steve Rogers rides a 2014 Harley Davidson Street 750, which we get to see a lot of in the movie. We get to see a bit more of the motorcycle in this movie.
Alexander Pierce played by Robert Redford is secretly a HYDRA agent and sets up Captain America and Nick Fury to be killed so HYDRA can take over once again. Captain America realizes this and is trying to get away from headquarters and uses his Harley as his getaway vehicle and throws the motorcycle through a jet!
Sebastian Stan (Winter Soldier) – 2016 Harley Davidson Street 750
In the 2016 film "Captain America: Civil War", Steve Rogers finds himself caught between trying to decide whether to side with his new friends or his old friend Bucky Barnes. In one scene, Captain America, Black Panther, and Falcon are all chasing the Winter Soldier through a tunnel and Winter Soldier stops a motorcycle with one hand, punches the driver with the other and flips the motorcycle around mid-air.

He uses the 2016 Harley Davidson Street 750 as his attempted getaway vehicle but doesn't make it far before authorities catch him. If you haven't seen the movie at least go check out the motorcycle scene.
Hugh Jackman (Wolverine) – 1963 Harley Davidson Duo Glide
It's hard to top the scene in X-Men Origins: Wolverine when Hugh Jackman is dodging tracer bullets from a helicopter on his 1963 Harley Davidson. My only wish is that we could have seen some more scenes of him on the bike.
Without a doubt there have been many different motorcycles that Wolverine owned throughout his career, but this is probably the coolest one.
Christian Bale (Batman) – 2012 Batpod
In the 2012 movie The Dark Knight, Batman uses his batpod to get out of the Tumbler (his big vehicle) while he's fighting Joker. The most iconic scene for the motorcycle has to be when the front wheel flips around sideways while he's changing directions. If you haven't seen it then you need to watch it tonight.
The bike was invented by a team working on the film and was a feat of true engineering getting it to actually run and drive. With tires that large it must have been incredibly difficult to steer. No, the guns are not functional in real life but the motorcycle itself is. There's actually 6 of these that were created for the movie, so if you can get your hands on one now it's sure to be worth millions someday.
The batpod features a Honda 750 engine, all fiberglass body, and the exhaust runs through the frame. One of the motorcycles just sold in 2016 for $100,000 and came with a certificate of authenticity from Warner Brothers.
Joel Kinniman (Robocop) – Kawasaki Ninja ZX-10R
Joel Kinniman plays a police officer in Detroit who is killed in the line of duty and then s brought back to life as a cyborg by the company Omnicorp. The premise of this movie is the same as previous movies and TV series. Robocop finds out that Omnicorp is the villain and he has to use his new abilities to bring down the company.
Luckily they provide him with an awesome Kawasaki Ninja ZX-10R which looks completely amazing in all black. The all black coupled with Robocop's black body armor makes for a pretty menacing looking ride.
If anyone out there has a Kawasaki Z1000 or Ninja ZX-10R it probably wouldn't be that hard to make your motorcycle look like Robocop's with a few small adjustments.
Uma Thurman (The Bride) – Kawasaki ZZR 250
Uma Thurman plays a vengeful woman seeking to kill as many Yakuza as she possibly can. She wakes up from a 4 year coma and decides she's had enough. In the movies she rides a Kawasaki ZZR 250 and she rides it well! I don't know if she did all of her own stunts and riding, but she did a great job.
Scarlett Johanson (Black Widow) – Harley Davidson Livewire
In the 2015 movie Avengers: Age of Ultron, Black Widow deploys her Harley Davidson Livewire motorcycle out of the quinjet and takes off after Ultron during the Battle of Seoul. She picks up Captain America's shield along the way and uses it as a windshield mounted to the front of her bike, and it looks pretty amazing.
After she throws Captain his shield back she uses the motorcycle to throw herself onto Ultron's truck and sadly the Harley Livewire gets totalled by oncoming traffic. I really hate when motorcycles get wrecked in movies!
Karl Urban (Judge Dredd) – Lawmaster
In the 2012 movie Dredd, the police have the authority to act as judge and jury in a crime-ridden society. Judge Dredd's futuristic motorcycle named the Lawmaster has advanced capabilities in artificial intelligence, advanced communication with other Lawmasters, and can drive on their own following voice commands.
Some of these capabilities might not be that far fetched here in the near future. Honda now makes a self-balancing motorcycle, and if that can be coupled with a self-driving technology from Tesla or Mercedes-Benz then we could see this happen in a few short years.
Garrett Hedlund (Sam Flynn) – Light Cycle
In the 2010 film Tron:Legacy the son of a digital world designer goes looking for his dad and ends up inside this digital world. He finds a digital version of his father but not his actual father, along the way he has to compete in these digital games and one of them involves some of the coolest motorcycles I've seen. They're called light cycles, and there are actually a few of them in real life, so a quick search will show you plenty of pictures.
The front and rear wheels are the same size and it sports light ribbons around the wheels that can be turned on or off at any time. According to other online sources about TRON, the bikes are fueled by pure liquid energy, whatever that means.
Dodge Tomahawk Concept
The Dodge Tomahawk took center stage at the 2003 North American International Auto Show and showcases a 500 horsepower V10 engine from an SRT Viper. I cannot even imagine sitting on a motorcycle with 500 horsepower below me.
The front and rear wheels all have their own independent suspension. So technically it's a 4 wheel vehicle but the wheels are so close together it still looks like a 2 wheel vehicle. A press release from Didge claimed that the motorcycle could potentially hit 400 mph but the automotive media debunked that claim with some simple calculations involving drag.
The motorcycle is more likely to hit speeds of up to 250 mph, which is still insane. Sources from Dodge say that the motorcycle has never been ridden over 100mph before, so none of those claims can be substantiated.
One of these motorcycles could be yours for about $600,000!
1934 BMW R7 Concept
The 1934 BMW R7 Concept motorcycle is hands down my favorite motorcycle to ever have been built. It's elegant, sophisticated, has big swoopy lines, and is almost 100 years old! If you've never read up on the history of the R7 you need to, it's an amazing story.
The motorcycle was designed and built during the middle of WW2 right in the heart of the fire, Germany. Had things gone differently for Germany and had they won the war then there's no doubt there would be a lot more of this model on the road today.
The automotive world thought this motorcycle to be a thing of the past until 2005 when it was rediscovered unassembled and boxed up. It was rebuilt and restored in 2006 and is still owned by BMW to this day, as it should be.
Nicholas Cage (Ghost Rider) – Hell Cycle
In the 2007 film, Ghost Rider, Nicholas Cage plays a motorcycle stuntman who makes a deal with the Devil and becomes impervious to death. No it's not the greatest movie of all time but it does feature some pretty awesome motorcycles. The most wild bike in the movie has to be the Hell Cycle.
Cage's motorcycle transforms at night into a fiery chrome skeleton chopper that rips up the street behind him as he rides. He uses the motorcycle to defeat demons and ultimately take on the devil himself.
Like I said, it's not the highest quality movie ever made but if you want to see some cool choppers then here's your chance!
The Hell Cycle was built in Australia for $300,000, has no front or rear suspension, and is powered by a KTM 525 cc four stroke engine. The bodywork and sculpting is extremely impressive, and although the bike is not street legal, people do say it's a fun motorcycle to ride.
Tom Cruise (Ethan Hunt) – 2000 Triumph Speed Triple
In the 2000 film Mission Impossible: II, Tom Cruise races around on a 2000 Triumph Speed Triple trying to save the world from chemical warfare. There's a lot of explosions and yelling but the most important part of the movie is the motorcycles.
The 2000 Triumph Speed Triple is a 108 horsepower streetfighter that is stripped down to deliver breakneck acceleration coupled with amazing stopping power. The Triumph Speed Triple is not uncomfortable to ride though, it's nice enough to commute to work and home without your back aching all day.
These motorcycles have gone down quite a bit in value, but this is one that I believe will make a comeback someday and be considered one of the cool classics from the early 2000's.
Tom Cruise (Ethan Hunt) – 2005 Triumph Bonneville
In Tom Cruise's next installment of Mission Impossible he stayed with the Triumph theme, this time riding a timeless 2005 Triumph Bonneville. The Bonneville will always be one of my favorite motorcycles, they're simple, beautiful, and can be modified a thousand ways to make them unique to each rider.
The 2005 Triumph looks so similar to the classic Triumphs of the 50's and 60's that many people can't tell which generation it is. There was a reason that Triumph went out of business in the early 70's. Their manufacturing and quality could not compete with Japanese motorcycles.
But now since Triumph has come back they're doing an excellent job at marketing to the younger generation of riders and inspiring that nostalgia in some of the older riders.
Tom Cruise (Ethan Hunt) – 2015 BMW S1000RR
In the 2015 film Mission Impossible: Rogue Nation, we find ourselves watching Tom Cruise kick some butt and save the world. This time he's riding a 2015 BMW S1000RR race bike.
The S1000RR was rebuilt in 2015 and is much more advanced than the first generation from 2012-2014. This motorcycle comes fully equipped with front and rear race ABS, dynamic traction control even at high speeds, and even tilt sensors that apply traction control when in a hairpin turn at high speeds. These motorcycles are extremely high tech and extremely expensive.
The motorcycle has a mind blowing 200 horsepower and can reach speeds of engine-limited 186 mph since that's what the race regulations stipulates the governor be set to. And the motorcycle only weighs 448 pounds with a full tank of gas, which is not very much for a race bike.
So if you need to save the world, this is a good motorcycle to do it on.
Tom Cruise (Ethan Hunt) – 2018 BMW R nineT
In the most recent edition of Mission Impossible, Tom Cruise has chosen to ride a 2018 BMW R nineT. This motorcycle is a bit more budget friendly than the last one since the r nineT starts at $15,000.
The R nine T has received a lot of mixed reviews from journalists who have ridden it in the past several years. Some say that it's a quirky bike that isn't quite as comfortable as you'd expect. It's jumpy and unpredictable, but those are also the things that some people like about them. They like that unpredictability.
The bike is an 1,170cc 2 cylinder with 110 horsepower. BMW has been selling them like hot cakes so people must really enjoy them! They've even added a few color schemes and options along the way since Europeans and Americans have been buying so many.
Stephen Amell (Green Arrow) – 2017 Ducati Diavel
Oliver Queen in the hit TV series Green Arrow has a pretty sweet collection of motorcycles, but one of his favorites is the Ducati Diavel. This 1200cc cruiser has over 150 horsepower and 91 pound-feet of torque. That's enough to throw an amateur rider flat on their back.
Ducati claims that the motorcycle is a cruiser. But it looks like a sport bike, and it accelerates like a sport bike. It even feels like a sport bike, but they keep assuring everyone that it's a cruiser.
Ducati Diavel sales have been decent over the past few years so they will continue to expand the brand with future versions of the Diavel.
Stephen Amell (Green Arrow) – 2016 Ducati Monster
While Oliver Queen likes to use his Ducati Diavel while cruising the town, when he needs to get down to business and find some bad guys he hops on his Ducati Monster. The Monster 1200R has superior handling and acceleration to the Diavel since it's slightly smaller and intended for racing.
Many racers describe the Monster as "nimble" and "quick on its feet" which makes it the perfect prowling vehicle for the Green Arrow's nighttime adventures.
The Monster has 155 horsepower and an astounding 13:1 compression ratio. That's almost getting to the point of pre-ignition for a gasoline internal combustion engine. Race engines are getting more and more advanced every year.
Charlie Hunnam (Jax Teller) – 2003 Dyna Road Glide
Charlie Hunnam made his fame through the hit TV series Sons of Anarchy where he actually rides his own personal motorcycle, a 2003 Harley Davidson Dyna Road Glide. In the show, Hunnam is trying to balance his life between being a good father and being in an outlaw motorcycle club.
The show ended in 2014 but Hunnam can still be seen riding around LA on his 2003 Harley. That generation of Dyna Road Glide came with a 1,450cc V-twin engine, fuel injection, and plenty of horsepower to get you down the road.
Ewan McGregor – 2004 BMW R1200GS
Ewan McGregor has been acting for many years, and along the way he had a colleague that would turn into a lifelong friend. They decided to plan a trip around the world, and to do it they chose the BMW R1200GS.
For those of you who haven't seen the series "The Long Way Round" it's on Youtube for free and it's an incredible story of these two men travelling around the world on motorcycles. By them filming this trip of theirs it has inspired hundreds of others to take similar adventures to places around the world on motorcycles.
The air cooled boxer engine has had superb reliability now that it's over 15 years old and gives the bike a very snappy feel when riding. I think the reliability of this generation of GS must also come from the fact that the people who tend to own these BMW adventure bikes take meticulous care of them.
Indian Larry Custom Choppers
Indian Larry died at the age of 55 after a hard life of drugs, motorcycle gangs, and accidents. But Larry was an incredibly talented builder and built some legendary choppers before his passing.
Indian Larry got his name in the 1980's from riding his chopped Indian around the streets of New York. He was a very talented fabricator and painter but those talents only came to fruition in the last few years of his life.
Larry participated in several Discovery Channel specials on motorcycle builders and gained national fame for several of his outlandish choppers.
Keanu Reeves – ARCH Method 143
Keanu Reeves is a true motorcycle enthusiast and loves them so much that he decided to start his own motorcycle company with a designer in 2011. ARCH Motorcycles is based in Hawthorne California and makes high end motorcycles.
ARCH currently sells 3 motorcycles, but Keanu's favorite is the ARCH Method 143. It's a stunningly beautiful motorcycle and I would love to be able to test ride one and write an article about it in the future.
The Method 143 is a futuristic looking 2343cc motorcycle with 170 horsepower. Their website says that production is limited to 23 units and once they hit 23 then they will no longer manufacture that model. That just sounds like creative marketing to me. But it truly is a beautiful motorcycle.
Keanu Reeves (John Wick) – 2019 Yamaha MT-09
In Keanu Reeves' newest installment of John Wick he is riding the streets on a 2019 Yamaha MT-09 while trying to outrun mobs who are trying to collect the bounty on him. He makes it look easy to fight off ten people while going breakneck speeds down the road, but I wouldn't try that at home if I were you.
The 2019 Yamaha MT 09 has 115 horsepower and very light, which makes it quick to accelerate and easy to maneuver. One of my coworkers rides this same model to work every day and its as beautiful up close as it is on the movie screen.
Sylvester Stallone (Rambo) – 1982 Yamaha XT250
In the 1982 film Rambo First Blood, Sylester Stallone rides a Yamaha XT250 in style. Stallone pushed the bike to its limits during filming and did a few of the motorcycle stunts himself. He's dodging bullets and cars, evading police, jumping railroad tracks, and making it look easy.
That generation of XT 250 was made from 1980 to 1983 and became quite famous from the Rambo movie. The little 250 single cylinder engine had 22 horsepower and was capable of reaching 75 mph.
Angelina Jolie (Evelyn Salt) – 2009 Triumph Street Triple R
In the 2010 film starring Angleina Jolie called Salt,she plays a CIA agent on the run after she is accused of being a Russian spy. Jolie owns several of her own motorcycles in real life and does most of the riding for the movie herself.
All of the reviews about the 2009 Triumph Street Triple are the same. For a $9,000 motorcycle this thing is a blast! This naked bike is light, agile, and puts a smile on your face every time you twist that throttle.
Angelina Jolie (Lara Croft) – Yamaha TRX850
In Angelina Jolie's 2001 film Tomb Raider, she rides a 2001 Yamaha TRX850, which is seen by many as a Ducati 900 SS knock off. The bike came stock with 83 horsepower and used a 270 degree crank like some race bikes instead of the usual 360 crank of cruisers.
Sadly for this motorcycle, Yamaha set the original sales price too high which made it suffer its first few years on the market. So the bike never really caught on, and by the time Angleina got her hands on one for the Tomb Raider movie, Yamaha had already stopped production.
Yamaha was just too little too late on the TRX850 so sadly they were only sold for a few years. You can find these used for fairly cheap online now.
Arnold Schwarzenegger (The Terminator) – 1991 Harley Davidson Fatboy
Arnold's 1991 Harley Davidson Fatboy from Terminator 2: Judgement Day is hands down one of the most iconic movie motorcycles and sold in an auction in 2018 for $520,000. The motorcycle was a big part of the movie and even made the main movie poster.
No doubt that Harley was thrilled that their motorcycle was chosen for the movie, and sales of that particular model spiked in the next several years. The bike had a 1337cc engine that only produced 49 horsepower. And the compression ratio was only 8.5:1.
Arnold has owned a lot of motorcycles throughout his life and even rode one around California while he was Governor without a helmet so people would see and recognize him.
Ryan Reynolds – 2015 Triumph Thruxton Cafe Racer
Ryan Reynolds has ridden motorcycles for many years but his favorite motorcycle in his collection is the 2015 Triumph Thruxton Cafe Racer that was built for him by designer and builder Kott Motorcycles.
Kott changed pretty much everything on the Triumph that he could to make the bike look like a true cafe racer. He had to cut the frame and weld on straight tube to give the bike a long defined line, he used a classic Yamaha XS1100 tank over the stock Triumph tank, and had to make changes to the whole electrical system to hide wiring.
This bike has been featured in a bunch of magazines because it truly is beautiful, Ryan has good taste in bikes.
Ryan Gosling (Luke) – 1995 Honda XR650L
In Ryan's 2012 movie The Place Beyond The Pines he plays a carnival stunt rider who finds out he's a father and starts robbing banks to help support the mother and child. There's all sorts of awesome riding and tricks performed in the movie and apparently Gosling said he did about 75% of the riding himself.
There's confusion throughout the motorcycle community about exactly what motorcycle Gosling rode in the film, and the reason for that is he rode 3 or 4 different motorcycles in the film, all camouflaged to look like each other.
One of the main motorcycles in the movie is a 1995 Honda XR650L dual purpose motorcycle. It came stock with 33 horsepower but only weighed 345 pounds so it could get up and go quickly. It could even reach a top speed of 96 mph which is extremely impressive for a dual purpose bike.
Marlon Brando (Johnny Strabler) – 1950 Triumph Thunderbird 6T
In the 1953 film The Wild One, Marlon plays a motorcycle gang leader who gets in a fight with another local motorcycle gang and terrorizes a small town. In the movie he rides a beautiful 1950 Triumph Thunderbird 6T.
1950 was the first year of the Thunderbird, and it was also the first year of a 650cc engine produced by Triumph. It was one of the fastest motorcycles on the market in 1950 and sold very well those first few years.
Triumph was able to make a ton of profit off of each Thunderbird because the engine and frame were exact replicas of its famous 500cc twin, the engine was just bored and stroked to 650cc. So there were no extra tooling costs associated with the production of a larger engine.
Daniel Craig (James Bond) – Honda CRF250R
In the 2012 film Skyfall, the international spy James Bond and all of MI6 is being targeted by an outside threat and he must save the day. Spoiler alert, James Bond never loses.
In the movie he rides a 2012 Honda CRF250R which are awesome little motorcycles. They have a 13.2:1 compression ratio and accelerate wildly from a stand still. The 2012 model year came with updated cylinder head, camshaft, and injection system for slightly more power than the previous generation.
Daniel Craig (James Bond) – Honda Montesa Cota 4RT
In the 2008 hit movie Quantum of Solace, James Bond goes undercover to stop a secret organization from stealing an entire country's most valuable resource. He blows stuff up and saves the pretty girl.
The film crew for the movie had to really rough up the bike before filming because they were shooting scenes in Port-au-Prince Haiti. A shiny new Honda would have looked completely out of place in the run down city.
He does have an awesome chase scene on the motorcycle that is fun to watch.
Pierce Brosnan (James Bond) – 1997 BMW R1200C
In the 1997 movie Tomorrow Never Dies, secret agent James Bond is seeking to stop an evil plan from a media mogul to induce war between China and the UK so he can get exclusive coverage of both sides of the war.
In the movie he jumps on a 1997 BMW R1200C with a fellow female assassin to outrun some people and expertly dodges gunfire and helicopter blades on the awesome BMW. The only problem I have with the James Bond franchise is how they manage to ruin so many beautiful vehicles.
They used 15 BMW's for the filming of this movie and they completely destroyed 12 of them.
Sean Connery (James Bond) – 1971 Honda ATC90
In the 1971 movie Diamonds Are Forever, Sean Connery had the role of superspy James Bond and played it so well. There might not ever be a better James Bond than Connery.
In the movie he rides a 1971 Honda ATC90, a small little three wheeler that he rides through the desert trying to escape. Three of these were donated to the production team by Honda but two of them were given back to Honda after filming. One of them survived and was recently restored to original condition.
Chris Pine (Jack Ryan) – 2014 Ducati Diavel
In the 2014 movie Jack Ryan: Shadow Recruit, Chris Pine plays a wounded veteran sent on an international assignment to spy on an evil corporation. He only gets to ride the Ducati Diavel for a few minutes through the streets of New York but it is a memorable chase scene.
The 2014 Ducati Diavel was a great motorcycle. It was fast, strong, and a great looking bike. It has 162 horsepower from a 1200cc engine and 94 pound-feet or torque. This is one that has been used in quite a few movies and TV shows and will someday be a collectors item.
Chris Pine (Captain Kirk) – Hilts PX70
In the 2016 film Star Trek Beyond, Captain Kirk explores the farthest reaches of the galaxy and finds some unexpected allies and foes. His ship gets destroyed by an enemy fleet and he crash lands on a planet which happens to have an old starfleet ship on it. On that ship he finds an old PX70.
In the film, Kirk talks about how his dad used to have a PX70 when he was a kid and he would give his mom rides on it and drive her crazy.
It's interesting to note that the brand, Hilts, is named after Steve McQueen's character "Hilts" in The Great Escape, which has one of the greatest motorcycle chase scenes of all time. There were two motorcycles created for the movie
We know that the original donor bike is a BMW but noone can figure out the exact model.
Che Guevara – 1939 Norton 500
Che Guevara's face can be be seen plastered on t-shirts and alley walls around the world, and is seen as an international symbol of revolution. Whether you view his actions as good or bad, he had a cool motorcycle and that's what we're here to talk about.
The 1939 Norton 500 had a single cylinder 4 stroke engine with only 21 horsepower. It was air cooled and had a 6.45:1 compression ratio. Those were impressive specs for that day and age, but even more impressive is how that model has withstood the test of time and is just as beautiful today as it was 80 years ago.
The motorcycle weighed 374 pounds and carried Che and his friend through Latin America, where he developed a lot of his political ideologies.
Tim Allen (Doug Madsen) – 2007 Harley Davidson Fatboy
In the 2007 film Wild Hogs, Tim Allen and a group of 3 of his friends are all having a midlife crisis and decide to set out on a cross country motorcycle trip.
In the movie, Tim rode a 2007 Harley Fat Boy, with a 1584cc engine with a 9.2:1 compression ratio and 78 horsepower. The Fat Boy has been a staple of the Harley Davidson collection for years and continues to be used in movies and TV series all the time.
John Travolta (Woody Stevens) – 2007 Screamin Eagle Fat Boy
John Travolta also starred in the movie Wild Hogs along with Tim Allen and rode a similar bike. John rode a 2007 Screamin Eagle Fat Boy, just a variation of the stock Fat Boy.
Both bikes shared the same drivetrain and suspension equipment, there are just slight variations in styling that differentiate the two models.
Carrie Anne Moss (Trinity) – 2001 Ducati 996
Carrie Anne Moss had never ridden a motorcycle before her performance in The Matrix Reloaded in 2003. She was terrified of motorcycles and began by riding small dirt bikes to get the hang of it. After months of building up to it, she finally got up the courage to drive the Ducati.
The motorcycle chase scene from Matrix Reloaded has gone on to become one of the most iconic motorcycle chase scenes in cinematic history. The 996cc engine boasts 113 horsepower, fuel injection, and a top speed of 161 mph.
The all black Ducati will always be considered a classic.
Matt Damon (Jason Bourne) – 2007 Honda Cota 4RT
In the 2007 movie The Bourne Ultimatum, Matt Damon is being chased by assassins sent by the CIA to keep him quiet. He is riding a Honda Cota 4RT through the streets of Tangiers trying to evade arrest.
The exact model that Matt Damon's stunt double uses for the tricks weighs in at 160 pounds and is sold primarily in Europe. The production team added a battered gas tank and ugly body panels just to make it fit in better with the surroundings.
Megan Fox (Mikaela Banes) – 2009 Aprilia RS 125
In the 2009 film Transformers: Revenge of the Fallen, Megan Fox plays alongside Shia Lebouf and Bumblebee in trying to save the world from the Decepticons again. More importantly, she rides a beautiful 2009 Aprilia street bike.
The bike is powered by a liquid cooled 125cc 2 stroke engine and weighs just 280 pounds. Many racers say the bike is so nimble and has such good steering response that it takes a few laps to get used to, because it's just that good.
Jet Li (Rogue) – 2007 Confederate X132 Hellcat
In the 2007 movie titled War, Jet Li acts alongside Jason Statham in an action movie about an assassin who kills Statham's FBI partner.
Li rides a 2007 Confederate Hellcat in the movie, powered by a 2150cc 4 stroke engine that creates 137 horsepower to the rear wheel. The Hellcat is a naked bike design with simple architecture and exposed mechanical features.
If you haven't seen some of the chase scenes in this movie then definitely go check it out.
Jay Chou (Kato) – 2011 Harley Davidson V Rod Muscle
In the 2011 movie The Green Hornet starring Seth Rogen and Jay Chou, Jay acts as the Green Hornets sidekick, Kato. Kato has the brains and cool toys of the group and rides an amazing custom 2011 Harley Davidson.
Alongside all the awesome gadgets and guns that Kato designs and uses throughout the movie, the motorcycle is one of the coolest. This 1250cc motorcycle is liquid cooled, has an 11.5:1 compression ratio, fuel injection, and 4 valves per cylinder for extra breathing.
Milla Jovovich (Violet) – 2001 BMW R1150 R
In the 2001 film Ultraviolet, Milla Jovovich plays a woman named Violet who is infected with a virus that gives her superhuman abilities. Her mission is to protect a young boy who carries the antigen to the virus in his blood.
In the movie she rides a 2001 BMW R1150 R. That model of BMW is classified as a naked bike and is powered by an 1130cc two cylinder boxer engine that makes 85 horsepower. Many riders call this model of BMW twitchy since the throttle is so responsive. Almost as if it wants to leap right or left out from underneath you. BMW still sold a lot of these bikes though, and I'm sure having it featured in this movie helped sell a few extra bikes.